Table of Contents
The modern technology market surprises us with new digital cameras. But despite these latest models, some photographers do not stop admiring retro cameras. After all, this tool creates not just photos but aesthetic masterpieces. Good options for vintage cameras include:
Cameras with such a retro style have been popular for a long time. Yes, there are many multifunctional cameras on the market. But they can not replace retro cameras. Because now, old cameras are rare equipment. It's not just an old copy of a film camera. It's a creative tool. And the significant advantage is that it has a very strong body. Some can overcome the worst weather conditions and take pictures even in the rain. So, if you are into vintage photography, pick cameras in old-style. It will pave the way for you to this hobby. The main thing is to choose it according to its characteristics and functions. Then you can create a miracle.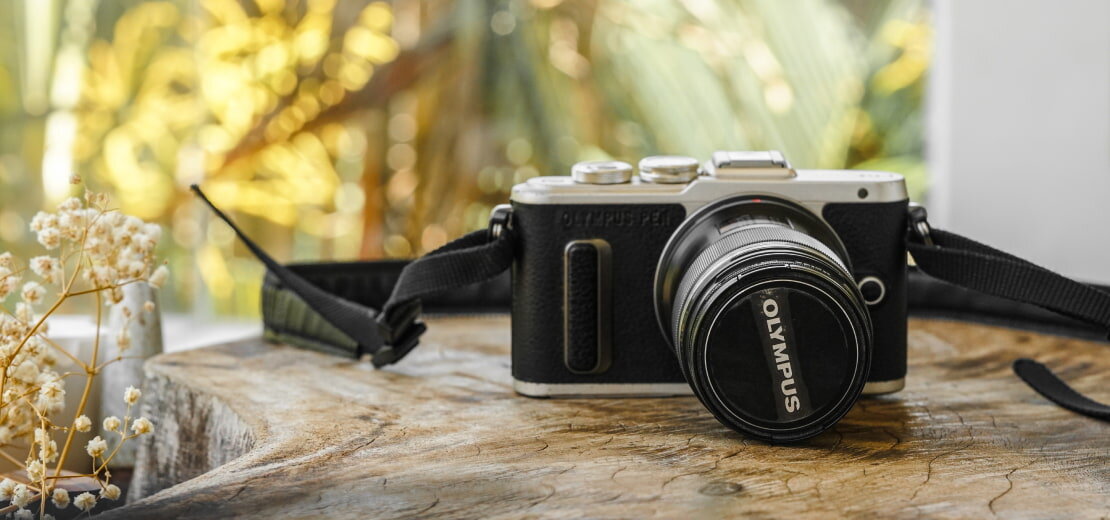 1. Olympus OM-1
The Olympus OM-1 camera brought "Olympus" worldwide fame. It is thanks to a significant breakthrough in photography. Besides, there are several reasons for the growing popularity of this old-style camera. The main one is incredible compactness. It has a small weight compared to competitors. Olympus OM-1 meets the highest professional requirements for functionality and reliability.
This old-fashioned camera was one of the first to install the mirror air damper function. It is the matrix stabilization of the past years. It eliminates shutter shake during the descent. Mass use of the model came at the end of the 70s. It is praised for its broad and bright viewfinder field.
The Olympus OM-1 camera suits professional work. It has a metal body that fits comfortably in your hand. It is impossible not to mention the reliable shutter. This has a resource for shooting 100,000 frames without maintenance. It also has a wide selection of focus screens. And finally, the most important thing is that the camera has a large selection of interchangeable lenses with high optical quality. You can not compare this retro camera with any others. Individual technology fans note the shutter's excellent release camera. In addition, it has a built-in exposure meter. 
Specifications
The type of photographic material used is 35 mm perforated photo film with a width of 35 mm in cassettes. The frame size is 24×36 mm.

The body is metal. The case opens at the back.

The frame counter is automatic and self-resetting when you open the back wall. 

It has a roulette-type spin rewind. The trigger has a transport and working position.

The lens mounting type is the Olympus OM bayonet. 

The working length is 46 mm.
| | |
| --- | --- |
| Pros | Cons |
| It has an attractive style | It is difficult to find a battery in the exposure meter |
| It has an excellent assembly  | |
| It is compact | |
| It has a built-in exposure meter | |
| It has a pre-lift mirror | |
| It has a large and bright finder | |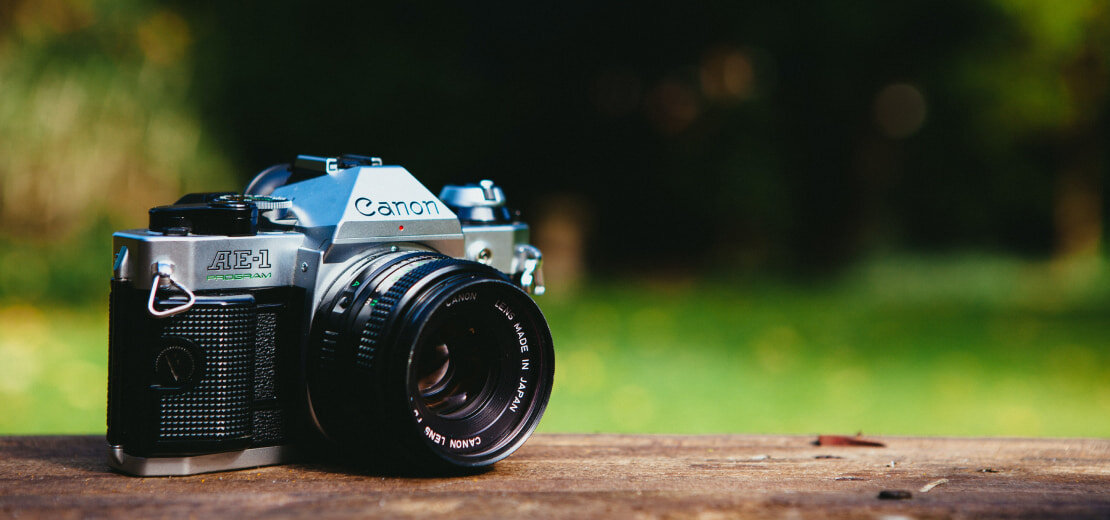 2. Canon AE-1
Canon AE-1 is a 35 mm single-lens reflex retro digital camera. This model often appears in the list of the best vintage cameras. Unlike older Canon cameras, the AE-1's main body is a mix of metal and plastic components. It reduces production and sales costs and makes the camera lighter. Besides, you can use this technology with different lenses.
This camera is ideal for the intermediate photographer. Its simplicity is perfect for those starting to move away from automated cameras. Besides, the AE-1 creates beautiful images that become a natural source of inspiration. Because image quality is a real strength of the Canon AE-1. If you do everything right, the resulting photos will be sharp, clear, and bright. 
The Canon AE-1 lens has a semi-automatic function. It selects the correct aperture depending on the light level. It is a helpful feature, but the photographer needs to choose the right shutter speed. As for focusing, it's just amazing. All the Canon lenses have a surprisingly smooth focus rotation. So, this retro camera is suitable if you like a more manual and practical photo approach. Or if you're transitioning from digital photography, then the Canon AE-1 is the camera for you.
Specifications
The type of photographic material used is 35 mm perforated photo film with a width of 35 mm in cassettes. The frame size is 24×36 mm.

The body is plastic.

It has a shutter trigger and film rewind. 

The trigger has two positions - working and transport. 

Electronic self-timer.

The

vintage camera

has a tripod socket with a 1/4-inch thread.
| | |
| --- | --- |
| Pros | Cons |
| It provides amazing picture quality | It has minimal automatic functions |
| It has good value | It is not compatible with late Canon EF lens mounts |
| It has incredible focus | |
| It is lightweight and compact | |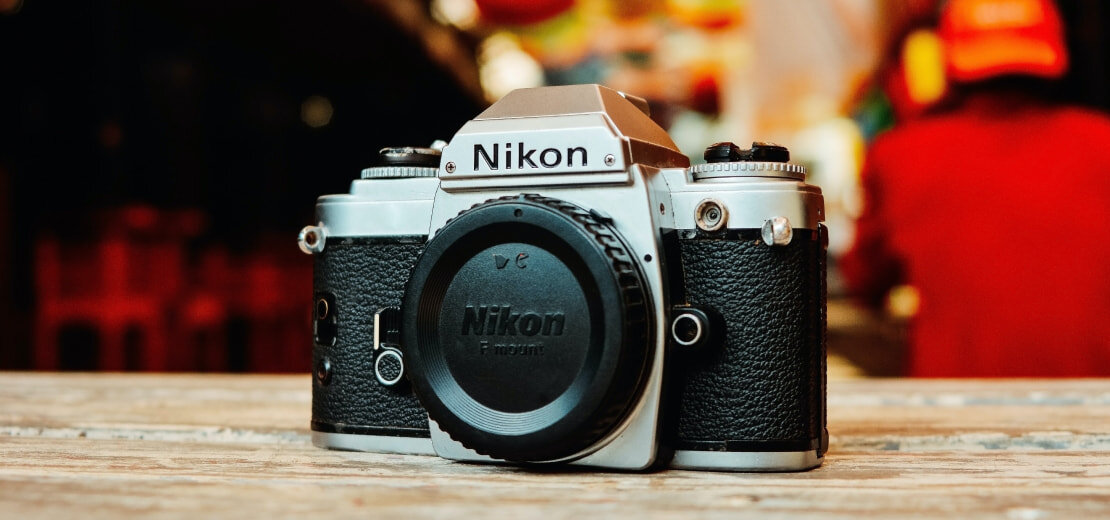 3. Nikon F2
Many photographers consider this old-style camera the best and most reliable mechanical camera. They use photos made on this camera, even in magazines. Nikon F2 draws attention with its spectacular design, which leaves no one indifferent.
Countless lenses and accessories make the F2 a camera ready to handle any photo task. Interchangeable viewfinders and focusing screens, motors, and rear panels make the Nikon F2 versatile. It is ready to meet the requirements of the most demanding photographers. Besides its many functions, the durability of the Nikon F2 guarantees excellent resistance. And it also provides high performance in extreme conditions and temperatures.
Nikon F2 - single professional lens retro digital camera. The camera body consists of 1506 parts and contains a shutter. It means that pictures taken with this technique look great. Too, F2 has mechanisms for raising the mirror and transporting the film with a frame counter. So, it is one of the best professional retro cameras of its time. It is admired not only by ordinary photographers but also by scientists. After all, the quality of the pictures is simply outstanding. 
Nikon F was created without competition. It has been a huge success since its start due to its design and high quality. And also, there was no other similar camera on the market. Due to the high-quality construction of this camera, it is compelling. Its viewfinder allows you to focus on objects in a matter of seconds. So, you take great shots from a wide variety of perspectives.
Specifications
It is compatible with two-cylinder curtain cassettes.

It is an entirely mechanical camera with manual control.

A modular design allows you to create any camera configuration.

There is a focal shutter with horizontal shutter movement.

The frame size is 24×36 mm.
| | |
| --- | --- |
| Pros | Cons |
| It has an excellent shutter speed | You need a special shoe to install the flash |
| It has a quality body and parts | It has a high price |
| It has great color rendering | |
| It has a fast and sharp focus | |
| It has good viewing angles | |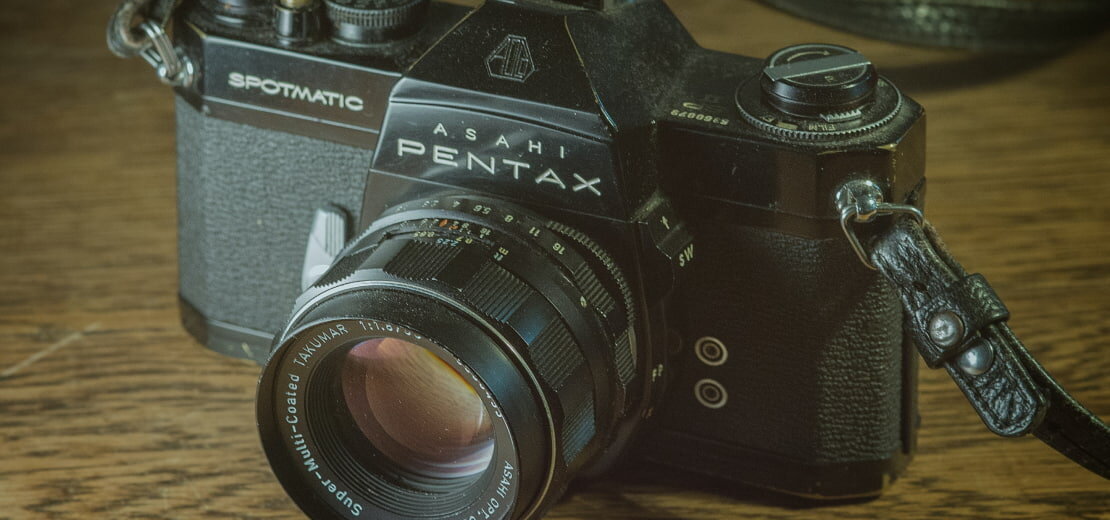 4. Pentax Spotmatic
Pentax Spotmatic - small-format vintage camera with a mirror of permanent vision. It is the first Pentax camera with through-the-lens exposure metering. Engineers developed the Pentax Spotmatic exclusively for the American market. But the retro camera demonstrated its work so well that it became popular in larger markets. Now it is used by many photographers who work in retro style. It allows the creation of incredibly high-quality photos of the old style.
The exposure meter of the camera has a connection with both exposure and aperture. A unique leash transmits the aperture value from the lens to the camera. It ensures excellent camera focus. So, it allows you to focus the lens at the most aperture with a bright image in the viewfinder. Besides, the camera has a mechanical shutter with a range of exposures from 1000 to 1. There is a mercury battery to power the light measurement system. Thus, the camera has excellent control.
This retro camera is famous for its spotlight measurement. It permits you to take pictures even in poor lighting conditions. Such a function became a revolution in the field of photography. The Pentax Spotmatic was one of the vintage cameras with this feature.
Specifications:
The arrow of the exposure meter in the viewfinder.

Exposure is at the working aperture. The aperture repeater has a connection to the exposure meter switch.

The camera is available in black and chrome versions. 

Frame format - 24x36 mm.

Shutter speeds - from 1 to 1/1000 s (automatic), "B" (manual).

Bayonet - M42.

Tripod socket thread - 1/4".
| | |
| --- | --- |
| Pros | Cons |
| It has a lightweight design that fits comfortably in hand | Its screw mount can be a bit slow |
| It is straightforward to use | It can sometimes be tricky to load |
| It has high-quality technological details that make the camera durable | |
| It fits many wide-angle lenses | |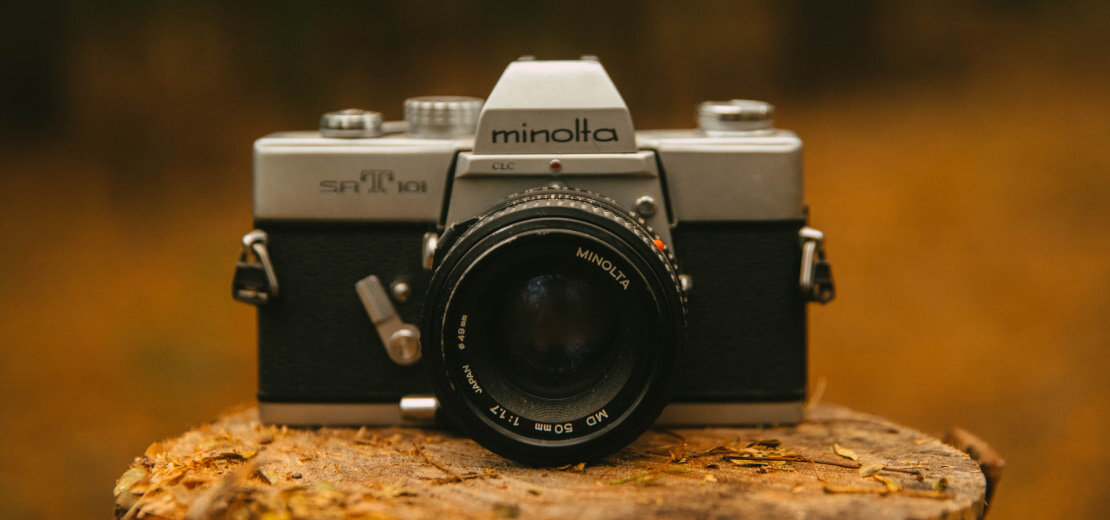 5. Minolta SR-T 101
Another tremendous retro camera option is the Minolta SR-T 101. This camera has a wide shutter speed range of up to 1/1000, fabric shutters, and an easy shutter release. Thanks to such technologies, the camera shows excellent results in photos. They are in vintage style, which looks very captivating. The camera is suitable for demanding amateur and semi-professional photographers.
It is in SR-T 101 that there is a prototype of matrix exposure measurement. This system uses two independent sensors. They measure the illumination of different parts of the frame independently. These novelties made it possible to make the SR-T 101 one of the most popular retro cameras of its time.
The SR-T 101 has a bright viewfinder with a central micro prismatic focusing system. It helps to detect objects in the frame accurately. Also, this digital camera retro has a "CLC" contrast measurement. That is, it can automatically provide contrast to your photo. Overall, the SRT 101 is a well-balanced camera. It has high-quality manufacturing with a relatively complete set of functions.
Specifications:
Automatic metering is at full aperture with shooting aperture compensation.

Metering is for combined aperture and shutter speed settings.

There is automatic aperture indexing when installing the lens.

Meter power off the lock to prevent

the

inaccurate depth of field measurement.

The predecessor of the modern matrix system is the compensation of contrast light.

Mirror lock (on previous models).

The shutter speed is visible in the viewfinder.

T

his

old-style camera

has

a mechanical, horizontal movement shutter in the focal plane.
| | |
| --- | --- |
| Pros | Cons |
| It ensures excellent picture quality | It is big and heavy |
| It is suitable for professional work | It is hard to find on sale |
| It focuses on objects very clearly and quickly | |
| It is reliable | |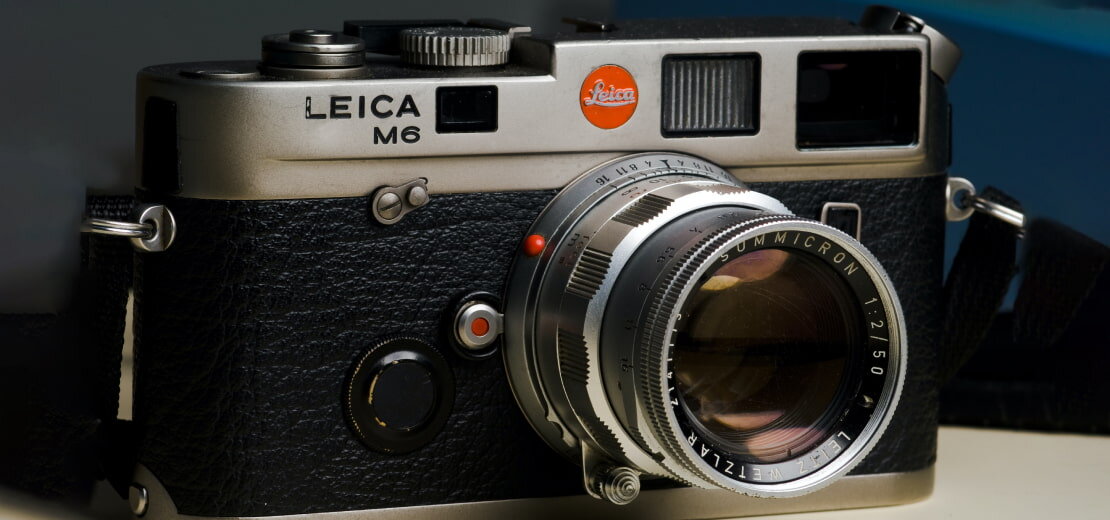 6. Leicas M3 & M6
Leicas M3:
The Leica M3 camera was released in 1953. It was the first vintage camera with a new design. And it first had a new look at the future functionality of 35mm professional cameras. The release of this camera made it possible to be technologically ahead of competitors by as much as four years.
The Leicas M3 camera has an established design form. This beautiful, enlarged camera allows you to create large-format pictures and high quality. The camera has a beautiful vulcanite coating. So, its appearance is very presentable and fashionable.
Loading film in this camera is very easy. You can do it with the bottom cover open. The range of shutter speed is from 1 second to 1/1000 second. Besides, this old-fashioned camera can use three lenses with different focal lengths. And you don't need a viewfinder for that. It allows you to move to a more modern camera and use the highest-quality wide-angle lenses.
Leicas M6:
The Leicas M6 model is also a tremendous retro digital camera . It is a compact and discreet model that lets you be in the center of events and feel real emotions. Since 1984, this camera has been the choice of many of the world's best photographers. They use it to create iconic retro photos.
The new Leica M6 features a modern version of the Leica M rangefinder with 0.72x magnification. Optical surfaces have a coating to protect against scattered light. And the manufacturers replaced the top covers from cast zinc with solid brass. 
More features of this vintage camera include a new battery warning indicator and exposure meter. The Leica M6 focuses on essential photographic functions. Engineers created it by hand in Germany. So, it's a reliable companion for anyone who appreciates long-lasting and contemplative retro photography.
Specifications:
Leicas M3:
The type of photographic material used is type 135 film.

It has a frame size of 24x36mm.

The body is metal, with a removable bottom cover and a panel that opens on the back wall.

The shutter trigger and film rewind are present.

It has a reverse film rewind with an eight-sided cylindrical head.
Leica M6:
The type of photographic material used is type 135 film.

It has a frame size of 24x36mm.

It has an automatic self-resetting frame counter.
| | |
| --- | --- |
| Pros | Cons |
| It is very light, and compact | Camera only focus to 1m closest focus |
| It has good value for the money | It lacks TTL flash control  |
| It is sturdy and reliable | |
| It creates less vibration than a metal shutter | |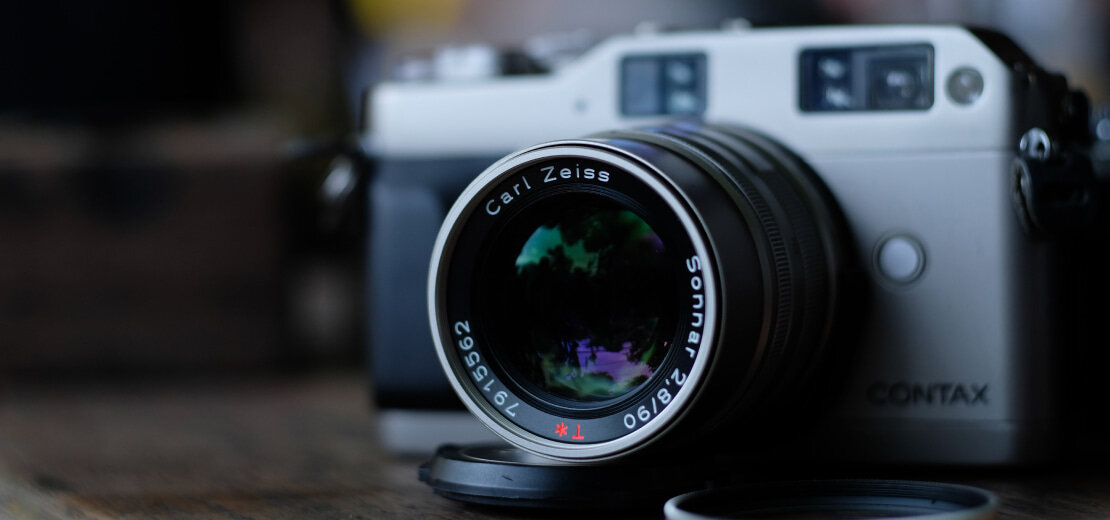 7. Contax G2
Contax G2 is another incredible old-style camera option with unique photo results. It is a 35mm autofocus rangefinder camera with a focal shutter. Its speed of up to 1/6000 s has the possibility of continuously shooting up to about four frames. It is straightforward to use, which makes it different from single-lens reflex cameras. 
The Contax G2 has aperture-priority automatic exposure with working aperture metering. The camera is excellent for both experienced photographers and beginners . The easy operation of the camera allows you to get used to it quickly and get incredible vintage photos.
One of the most significant advantages of this machine is its comfort. Although the digital camera retro is a little heavy due to its high-quality parts, it fits perfectly in the hands. You will be able to work with this camera for the first time because of its convenience. Besides, the shutter and film feed work with minimal recoil in hand. The sound is usually audible but not very loud. So, working with this camera is satisfying. 
The design of the Contax G2 is another huge advantage. The appearance of camera is attractive and stylish. For this reason, this model is a rarity. And photographers buy it often to complement camera collections. Also, this retro camera has excellent autofocus. It will concentrate on all the objects you need. But sometimes it can take some time. And for professionals, it is a big minus. But, looking at all the advantages of this camera, this disadvantage is insignificant. 
Specifications:
The frame size is 24x36 mm, type 135 film.

It has a sync shutter speed of 1/200s and longer.

Burst shooting has up to 4 frames per second.

Compared to the Contax G1, the Contax G2 has improved autofocus performance.

It has a

retro

-styled titanium

camera

body.

Loading film is present.
| | |
| --- | --- |
| Pros | Cons |
| It has a fast and accurate autofocus system  | It is expensive |
| It provides a durable build  | Sometimes it causes focusing problems |
| It has an incredible contrast and color rendition | |
| It is tough due to the titanium build | |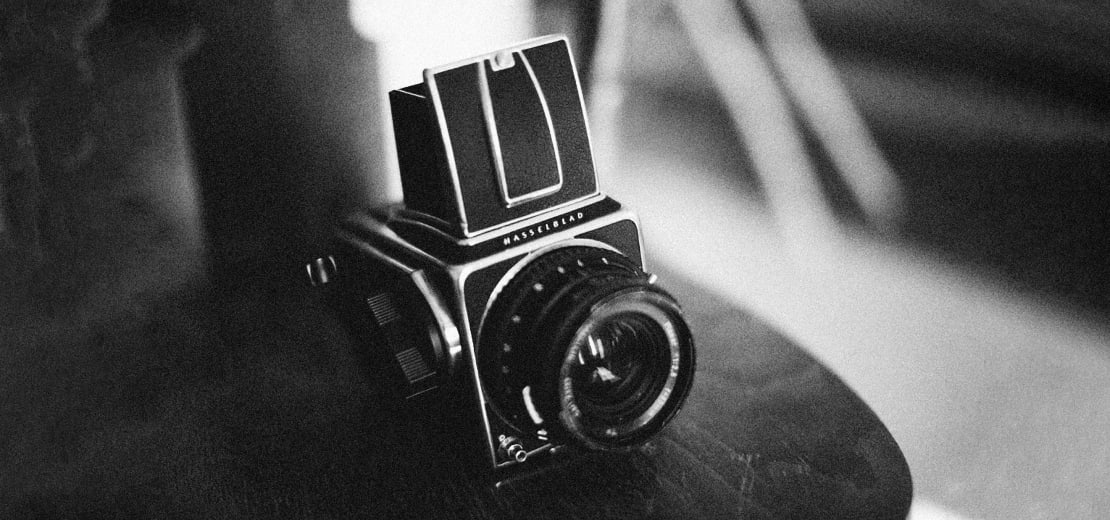 8. Hasselblad 500 series
The Hasselblad 500 series is one of the most iconic cameras in the history of retro photography. Starting with the Hasselblad 500 series, you can easily replace the viewfinder screen. You can also enjoy the shot through the viewfinder. And you need to do it without pressing the shutter button.
The most attractive feature of this old-fashioned camera is shooting with Carl Zeiss lenses. The soft bokeh effect allows you to take pictures that create a feeling of air. Thus, taking photos with this camera will give you masterpieces and inspiration. Also, the camera has an LV lock that lets you freely change the combination of aperture and shutter speed. It does not change the exposure, so with experience, you can shoot without using an exposure meter. Thanks to such functions, this version of the old-style camera is suitable for both professional and amateur photographers.
The walls inside the camera body are with a material called Pulpass. Engineers designed this to prevent internal reflections. Maybe someone does not really like this design, but cracks in the palps almost do not affect the shooting.
In general, photographers can use a solid retro camera for a long time without minor glitches. Its high-quality details are much stronger than those in modern SLR cameras. It contributes to the durability and excellent performance of the Hasselblad 500 series.
Specifications:
It comes complete with TTL flash metering electronics.

It has new sliding mirror systems with an enlarged view on the focusing screen.

It has shutter speeds of up to 12 minutes and 1.5 fps burst shooting.

It consists of three components: a lens, a body, and a film back.

The case with a handle for turning the film is present.
| | |
| --- | --- |
| Pros | Cons |
| It is capable of quality, incredible images | It has difficulties with focus |
| It is super portable  | Sometimes it is slow to operate |
| It is small and lightweight | |
| It is quite simple in its design and features   | |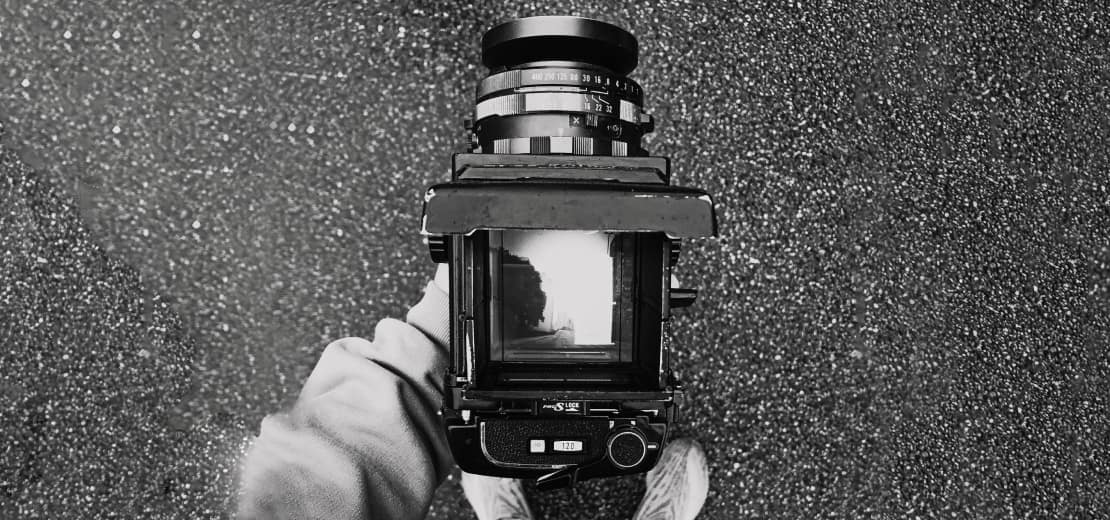 9. Mamiya RB67
If you want to immerse yourself in the retro style of the past, Mamiya RB67 is for you. The camera's body is quite simple and reliable. It is an entirely mechanical apparatus that does not require any power. An old-style camera flaunts its reliability and photo quality. The pictures taken with this camera are incredible. You can use it to photograph nature, architecture, or people. Any of these styles will bring their unique vintage vibe through the Mamiya RB67 film.
The camera is suitable for shooting 6x7 cm frames. You do not need to turn the camera in different directions to get such a format. You just need to put the switch on the camera to the ''R'' mark and turn the butt. Ten frames fit on a roll of 120 films. The frame is square, so the camera is easy to use. Thanks to such an opportunity, there is the horizontal and vertical frame concept.
Another distinguishing feature of this retro camera is the Mamiya Sekor lenses. They are extremely sharp and reliable. Also, they have another important detail, which is the central shutter. What does this thing do? It provides excellent flash sync exposure up to 1/400 sec.
Besides all these, the old-fashioned Mamiya RB67 camera has excellent focus. After focusing the lens, you can clamp the concentration. Thanks to such a system, you can achieve smooth and precise focus adjustment. And if necessary, you can fix it.
Specifications:
It is a medium format camera with a mine viewfinder.

It has 120 medium format manual focus.

It has a fully mechanical system with interchangeable film backs and focusing screens.

It has a darkslide safety interlock mechanism.

There is the final version of the Mamiya RB67 line of modular SLRs.
| | |
| --- | --- |
| Pros | Cons |
| It has outstanding image quality | It is not suitable for the inexperienced  |
| It allows very easy to shoot vertical and horizontal frames | It's very heavy  |
| It has an easy-focusing process | It's expensive to buy and use |
| It nice feels in the hand | |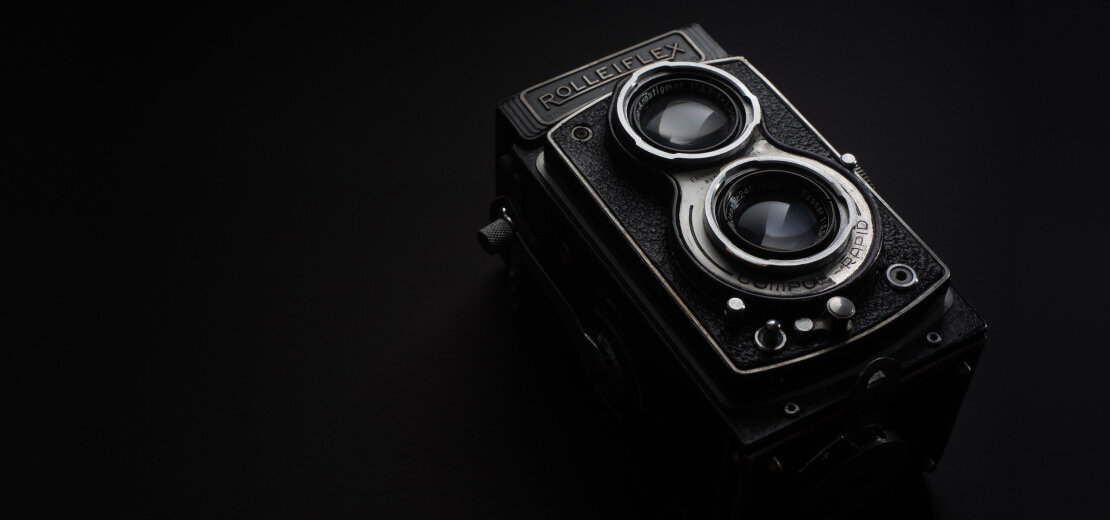 10. Rolleiflex TLR series
Rolleiflex TLR series are invariably high-quality, old-fashioned cameras. When choosing such an apparatus, its model is not as crucial as its equipment. This option is quite popular and good. It is rather a creative tool, providing 100% control over the shooting process.
The simplicity of the design and compactness made these cameras extremely popular among professionals. Almost every manufacturer offered, as a rule, two lines. One of them was significantly more expensive. And the second included cheap options designed for beginner photographers. If you are looking at the newer models, the Rolleiflex 2.8 and 3.5 models are suitable for professionals. Rolleicord models are in demand among amateurs. And the Rolleiflex T model exists as a more affordable option than the top models.
The popularity of such retro cameras is easy to explain. The fact is that during shooting, images do not disappear from the viewfinder. Thus, you can choose the focus and take a photo according to your preferences. 
Although it is an old-style camera, this option remains relevant even in the modern world of digital cameras. The Rolleiflex TLR series has a fixed mirror and a central shutter. It makes shooting silent and reliable.
Specifications:
Rolleiflex TLR cameras have a central shutter, which is a precise mechanism.

It has a focal length of 75–80 mm and shoots on classic medium-format film.

It takes a photo on 35mm film.

The absence of shock when the shutter triggers allow you to shoot handheld at a shutter speed of 1/15.
| | |
| --- | --- |
| Pros | Cons |
| It provides an excellent contrast | Its material feels cheap  |
| It has incredible sharpness and resolving power  | It feels somewhat heavy |
| It is stable and quiet  | |
| It has a good look | |
A Word From Portfoliobox
Despite the innovative technologies in photography, retro cameras are still popular. And this is not just a camera for photo shoots. It is a precious thing that creates a miracle and art. You can become an unusual photographer with your vision thanks to old-fashioned cameras. The main thing is to choose the proper apparatus for this. And which one exactly? Portfoliobox will help you with this. We will tell you about the choice of cameras and how to take pictures correctly and promote your photos.