Are you thinking about launching your own commercial photography business? Commercial picture is one of the most versatile and wide-reaching kinds of photography. It allows companies to showcase their offerings in full. 
Before creating such a photo for commercial use, consider the following questions. They can help you determine your goals and interests:
What's the most exciting image you've ever worked on?

What would it be if you could photograph any event or person?

How would you describe your work as a commercial photographer? 

What have been some of the most commercially challenging projects you've worked on?
Whether you're an experienced photographer or new, this comprehensive guide will provide everything you need to know about commercial photography - from composition basics and lighting setup to having an efficient workflow process and marketing strategies. Discover the best commercial photography tips in this must-read guide!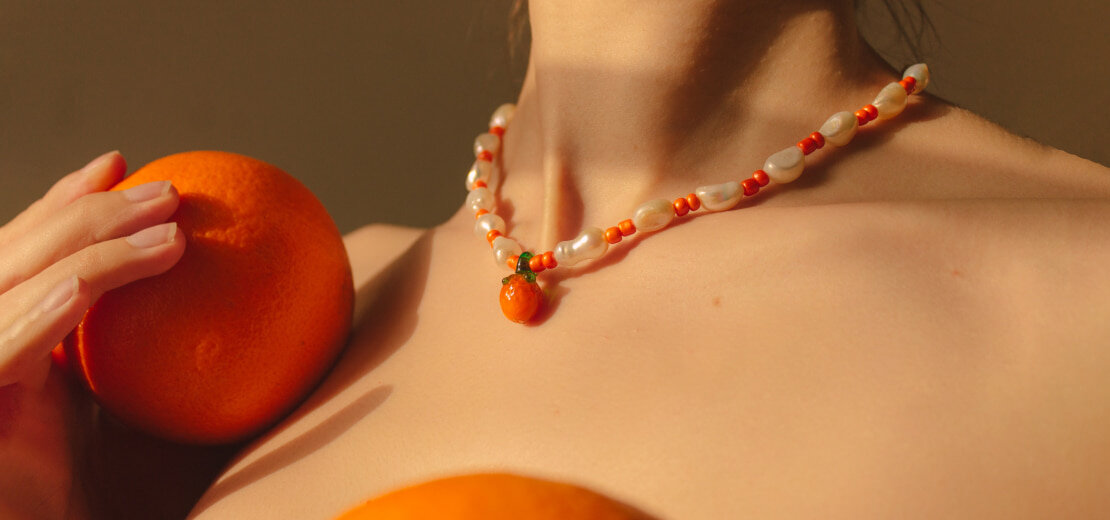 What is
Commercial Photography
?
Commercial photography is any photo that helps promote a brand or product. This can include:

Promotional images for websites

Advertising campaigns

Fashion magazines

Real estate

Retail products

Websites

Catalogs

E-commerce stores

And many more
Typically, a product photography job will help:

Communicate a company's core values

And showcase their products in an attractive way
Commercial photographers use artistic techniques to attract the attention of potential customers:

They also use post-production editing tools such as retouching and color grading. These tools produce professional-looking promotional photography. 
With today's digital technology, commercial photography has become easier to access. And it has allowed businesses to expand their promotional efforts more efficiently than ever. Commercial photography can help any business:
Stand out from the competition

And create eye-catching promotional visuals
With the right photographer on board, businesses can benefit from professional promotional photos that showcase their products and services in the best light possible.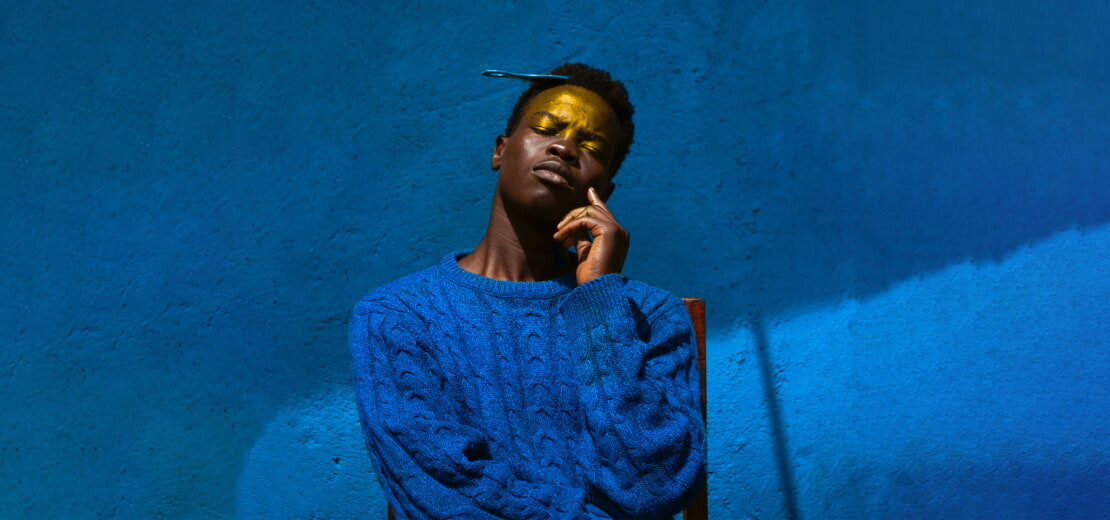 Types of
Commercial Photography
Commercial photography is an art form that requires technical skill and creative vision. With so many different types of commercial photography, it can be hard to decide which style is right. Here are some suggestions for how photographers select their favorite type of photography:
Consider your skills and interests

. What are your particular areas of expertise? Do you have a knack for shooting architecture? Are you passionate about portraiture? Do you have a background in product photography? Think about what you enjoy doing. And consider how it can transfer to commercial photography.

Research other photographers' work

. Get inspired and explore different types of

commercial photos

produced by other professionals. Research the types of shoots they have done and note what speaks to you.

Ask yourself important questions

. Think about who your potential clients would be. Consider what type of product or service you would provide. 
Each type of photography has a specific audience and purpose:
Event Photography
Different types of events can benefit from having a professional photographer:
Conferences

Parties

Launch events 
Photographers take candid shots that accurately represent the atmosphere of the event. These event images allow companies to share their accomplishments with potential customers.
Fashion photography
Fashion promotional photography is all about creating beautiful and visually stunning images. Fashion photographers can provide their clients with images that are:
Impactful

Engaging

And memorable
Fashion photographers should know how to make clothing look its best. 
Portrait Photography
It is all about authentically capturing individuals and groups. Through creative poses and compositions, photographers showcase:
People's features 

And personalities
Portraits help create a personal connection between businesses and potential customers. It increases trust and loyalty across both brands and individuals.
Lifestyle photography
It is a type of commercial photography that captures images in the context of everyday life. It can help promote products or services by showing them used in real life. This style of photography involves:
People

And their environment
This allows viewers to connect with the product on a more personal level. It focuses on the beauty of everyday life. And it encourages viewers to participate in the lifestyle presented. 
Architectural Photography
This type of photography requires:
An eye for detail

Composition

And color
Photographers use various approaches to take images of buildings and structures. These photos showcase projects or developments. This allows companies to prove the quality of their workmanship.
Food Photography
This photo for commercial use is all about:
Making food look appetizing

And appealing to potential customers or viewers
For example, fast-food restaurants often need photographs of their menu items. They use them for promotional material or online ordering systems. 
Product photography
This photography is an art form of capturing images to promote products and services. It involves taking professional photos of a product or service to showcase it in the best possible way to potential customers. Product photography jobs are important for companies to benefit from:
Advertising

Website promotion

Press releases

And other promotional activities
Product photography jobs often include several tests before selecting the perfect shot. They should consider the technical and aesthetic aspects to create a successful picture.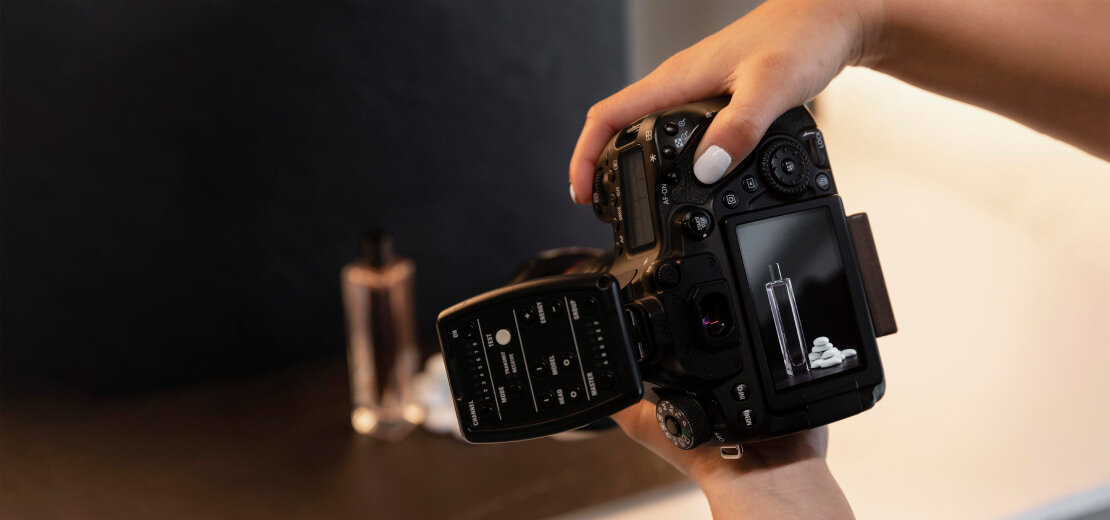 What Is the Difference Between
Commercial Photography
and Advertising Photography?
The main difference between commercial photography and advertising photography is that:
Commercial photography aims to capture raw moments.

While advertising photography focuses on creating images for promotional campaigns.
Commercial photography

focuses on capturing images of a business's products or services. These can be clothing or food items, for example. These photos show customers what the product looks like before purchasing it. 

Advertising photography

is more about creating an advertising campaign for a brand. This type of photography aims to take images that portray an emotion or a feeling associated with a particular product or service. Advertising photographers usually create several different photographs. Photographers can combine them in one campaign to help promote the brand's message. 

Commercial

photo

is typically

realistic

,

while advertising

photography is often

more stylized and creative

.
Both types of photography are important tools for businesses. As they showcase business products and services in the best possible light.
Commercial Photography
Tips
Commercial photography is an exciting field of photography. It is not just about taking pictures. It also requires a lot of post-processing to make the images look their best. 
Commercial photographers should have strong technical skills and knowledge of the market. They should also be able to work quickly and efficiently while keeping up with trends in their field. 
Additionally, many commercial photographers specialize in a particular area or photo genre. It allows them to develop expertise over time. For example, some can focus on portrait photos or photojournalism for commercial use. While others specialize in food or product photography for online stores. 
Regardless of their niche, all commercial photographers strive to create eye-catching photos. By following these simple tips and tricks, you should create stunning photography. 
Event Photography
First off, take plenty of photos! You need lots of options for post-production editing. In your product photography job, you can try: 
Different angles

Focus points

And perspectives from various distances
This will give you a larger selection to work with when selecting the best shots.
Also, consider working with props or posing your subjects to suit your client's needs. If they need action shots of their product, think about how you can make those moments creatively and naturally.
Consider interesting backgrounds and lighting. Lighting can make or break a commercial photo, so it's important to pay attention to:
Natural lighting available in your environment

And how it affects your shots
When shooting many people, think about their positions relative to each other:
If they stand side-by-side, use a wider lens so you capture all of them in the frame.

If they're close together, consider using a narrower lens. 

Get creative – you don't have to stick with traditional poses!
Be prepared for any unexpected changes that can happen during an event. Your clients can decide at the last minute that they want more group shots than individual ones. In this case, there can be an impromptu performance. 
Fashion photography
This promotional photography can be a great way to add to your portfolio:

Flair

Style

And sophistication 
Here are some tips for making fashion photos for commercial use work for you:
Know Your Brand

. It is essential to keep your brand's vision in mind when shooting a commercial fashion shoot. 

Use Props

. Props can help make your photos stand out from the crowd. They create an interesting story around your shots. Some classic props that bring a level of sophistication to your photos include:
Jewelry

Hats

Sunglasses

Handbags

And other accessories
Get Creative with Lighting

. Proper lighting is essential for creating beautiful fashion

commercial photos

. So don't be afraid to get creative when setting up lights and shadows. Experiment with different lighting techniques such as using:
Gels

Bounce cards

Umbrellas and grids
They create unique looks that reflect the essence of the outfit.
Use Interesting Backgrounds

. The background can make or break a photo. So take time to choose one that complements the look you are going for. It can be an outdoor location or a studio backdrop. A visually appealing background will enhance the quality of your photos.

Have Fun

. Fashion

photos for commercial use

should always be fun! You can play around with different poses, props, and backgrounds. Have fun with it, and don't take yourself too seriously. After all, you're the one behind the lens!
Portrait Photography 
It's important to plan when it comes to portrait photography:
Set up your shots and take the time to stage them correctly.

Think about how you want the subject of the photo to look.

Then, create a set that will help bring out their features in the best way possible. 

If you use props, check if they fit with the theme of your shoot. And don't distract too much from your subject.

Ask questions and discuss ideas before starting

commercial photography

. It will help everyone be on the same page about what will be taken and how it should look. As you work with clients, remember that you create images for their business or brand. Pay attention to any feedback they give you.
Finally, check your images as you go along. See how the lighting and composition look in different shots and adjust accordingly. And make any necessary changes before wrapping up the session. Reviewing each photo can make the result exactly what your client wants.
Lifestyle photography
The essential tip for lifestyle photography is to consider small details. It can improve your promotional photography from good to great:
Take note of patterns, textures, shadows, and light. All these elements add depth, drama, and interest to an image.

It's also a good idea to look for exciting ways to include props or accessories in the shots. It draws attention away from any potential flaws.

Be aware of current trends and styles that can influence how you capture your images. 

Research other photographers in your field. It can inspire you to create unique shots that stand out from the crowd.

Check for focus, composition, and color balance. These are all essential elements of a successful lifestyle

commercial photo

. Take time to review your images when you're finished shooting.
Architectural Photography
Before shooting, check your composition includes all the main elements:
When shooting from a distance, use a zoom or wide-angle lens. It will ensure everything is visible in the frame.

Take plenty of time to plan your shots before you start taking them. 

Check weather conditions ahead. 

Also, look for interesting angles and perspectives. It can add dimension and drama to your

commercial photography

.

Lastly, try to include some human elements in the background of your photos. People add scale and context to a shot, making it more interesting. If possible, take some shots with people inside or around the building. This will help tell a story about the structure itself.
Food Photography
One key thing to remember in commercial food photography is the presentation:
Make sure the food looks as good on camera as it looks in real life! 

Experiment with various backgrounds, props, and styling techniques. 

Natural light can be great for food photography. But you can experiment with artificial lighting, too. 

A

tripod

also helps keep your

photo for commercial use

steady and consistent.
Regarding editing, focus on making small adjustments. They will enhance color and contrast instead of over-editing or adding too many filters. 
And finally, don't forget composition. Try different angles and perspectives while maintaining the focus on the food. Taking your time to set up a shot will ensure that you create eye-catching photos that stand out from the rest. 
Product photography
A good product photo can attract the attention of potential customers, leading to more sales. Here are some tips on how to make this product photography job successful:
Think About Lighting

. Lighting can set the tone for product photography. So think carefully about:
Where you place lights.

And whether they provide enough light to get the job done.
Natural lighting will usually give you better results than artificial lighting. But it's important to test different setups before settling on one.  
Use Props

. Props can help add an extra layer of detail and interest to product photos. These elements can take

product photography job

to the next level.

Be Creative

. Get creative with angles, and pose your product in exciting ways. And try out different ideas until you find something that works for your product.

Look for professional help

. If you don't have the experience or equipment to create product photos, you can:
Seek help from professionals who specialize in

product photography job

. They can take your photos to the next level and make them perfect.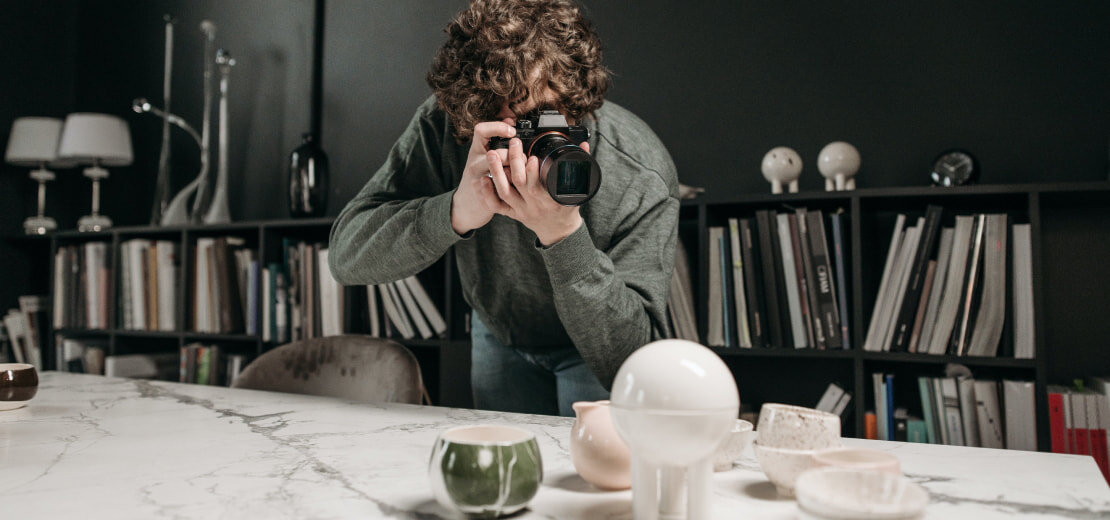 6 Essential Equipment for Your
Commercial Photography
Launching a successful photo business requires having the right equipment. Essential equipment for a commercial photography studio includes:
Cameras

Lenses

Lighting

Backdrops

Stands

Props

And a computer
Here is a more detailed list of essential items you'll need for your startup:
| | |
| --- | --- |
| Equipment | Description |
| Camera body | You can invest in a good quality camera body, such as Nikon or Canon. |
| Lenses | A variety of lenses are essential for capturing different types of photos. Look into telephoto, wide-angle, and macro lenses to get started. |
| Lighting | Quality lighting can make all the difference in taking commercial photos. Invest in a few soft boxes, umbrellas, and continuous light sources. |
| Backdrops | To create a professional look, choose seamless backdrops and stands. This will help you set the scene for your shoots. |
| Tripod | A tripod is a must to help you achieve a steady shot. Invest in one with adjustable legs and a ball head mount. It will allow you to adjust the angle of the camera easily. |
| Computer/Editing Software | Look into Adobe Lightroom or Capture One Pro for great photo retouching tools. |
Equipping yourself with the right gear gives your business an edge over competitors!
How to Price
Commercial Photography
Pricing commercial photography depends on:
Type of shoot

Type of licenses

And other factors like your project's complexity
So it's best to evaluate each project on a case-by-case basis and charge accordingly. When pricing commercial photography, there are some essential things to consider:
Consider estimating what materials you need and factor in any extra costs. They are travel expenses or studio rentals.

It's also important to account for your time. So consider how long it will take to:
Research

Set-up

Shooting

Editing

And post-production work
Once you have considered all factors, it's time to start setting prices for your commercial photo:
Start by looking at what other photographers in your area charge. And you can base your rates on theirs. But don't forget to factor in your unique skills and experience. 

Depending on the nature of the project and the client, pricing can vary from job to job.

It's also important to be flexible in negotiating with clients. Offer them different packages or payment plans, depending on their needs.

Be honest about your pricing structure and expectations for each shoot. Thus, creating a fair price that works for everyone involved will be easier!  
How to Interact with Clients during
Commercial Photo
Process
Interacting with clients is a crucial part of being a successful commercial photographer. Here are some tips that can help you foster effective communication:
Ask questions
Get to know your client, so you can understand their expectations for the photoshoot. Ask them about:
Purpose of the shoot

Desired atmosphere they want to be portrayed in

Or any specific ideas they have in mind
It will give you insight into the type of commercial photos they seek and how to achieve them.
Listen
Once you ask your questions, listen to what your client says. Taking note of their answers will help them understand that:
Both parties are on the same page 

And you meet their expectations

Be open to suggestions
It's important to remember that although:
You are the expert in all things photography

But your client is the expert in what they want from the shoot
They can have some great ideas or directions for you to explore. So be sure to listen with an open mind and be willing to make adjustments as needed.
Showcase your portfolio
Presenting your previous promotional photography will help clients:
Visualize how their photos can look once complete

Give insight into your style and skill level
Establish trust 
Building a good rapport with your client will go a long way in creating a successful photoshoot. Let them know that you:

Understand their vision 

And reassure them that you will do everything possible to bring it to life
By following these tips, you can be sure that the communication lines between you and your client are open and that the shoot goes smoothly.
How to Promote Your
Commercial Photography
Portfolio
Creating an impressive photography portfolio is the first step to getting your work noticed by potential clients. But a portfolio isn't doing much good if no one knows about it. You need to:
Promote your photography portfolio 

And get people talking about your amazing photo
Create a website or social media account to promote your commercial photography portfolio. It will help showcase your work and build an online presence.
Here are some tips for doing just that:
Use Social Media

Take advantage of social media networks like Instagram, Facebook, and Twitter. Post regular updates of your new photos for commercial use. And let people know about any projects or events you have coming up. Engage with other photographers in the industry and build relationships.

Ask For Testimonials 

Ask your past or current clients to leave a review on social media. It can be Google My Business or other similar platforms. Positive reviews can increase the number of your potential customers. 

Start a Blog

Writing informative blog posts can be a great way to draw in new readers. It can help promote yourself as an expert in the field of photography. You can also use blog posts. It will help showcase your commercial photography and link to your portfolio website.

Network with Local Photographers/Businesses

Reach out to other photographers, businesses, and wedding venues for collaboration opportunities. Otherwise, you can get your name out there.

Join Professional Organizations

Joining a professional photographer's organization can have many benefits:

- from access to exclusive events and job opportunities;

- to discounts on supplies. 
Create Your
Commercial Photography
Portfolio
Commercial photography is a profession that requires both artistic and technical ability. So don't hesitate to explore all the possibilities with professional commercial photography. With practice and patience, you'll soon be able to take breathtaking images!
After creating your photo for commercial use, you will need to make a portfolio. You can do this very easily using our website portfolio builder. Also, don't forget to read more useful articles on our Portfoliobox blog.
More than 1 000 000 people have created their website with Portfoliobox. Give us a call today to discuss your project in more detail. We would love to help make your vision come to life.