New banner for domain updates
2023-05-26
We implemented a banner in your admin panel to let you know the status of your domain name. If you submitted a domain name that you own, the link to the configuration guide will be visible until you publish your site.
New feature: Footer
2023-05-16
You can now add a footer to your site. In web design, a footer refers to a section at the bottom of a webpage. It typically contains information that is repeated across multiple pages, such as copyright notices, contact information or navigation links. You can add a footer to your site by clicking Add a Footer at the bottom of your site.

Read more about how to add a footer.
Update: shift select images in the Image Library
2023-05-04
You can now press the Shift key to select several images at once in your Image Library.
Update of the checkout and alerts
2023-05-03
The checkout and other alerts are updated to look better with dark backgrounds. 
New: add section above
2023-05-02
You can now add a section above other sections by clicking on Add New Section at the top of the section.

New templates
2023-04-20
We released
4 new templates for Contact Pages: Contact Image Left, Contact Image Right, Contact Three Columns, Contact Cover Two Columns.
3 new & updated templates for CV Pages: CV 1, CV 2 &

Half screen CV 2.

2 new & updated templates for Testimonials Pages: One Quota 1 & One Quota 2.
Update: Round single images
2023-04-20
Single images can now be round.
Right-click the image.
Click on Styles
Under Make Round, choose Yes.

New: A library of 2000 icons 
2023-04-20
We've added a library of 2000 high-quality icons to our product to further enhance your website's visual appeal. These icons cover a wide range of categories and can be easily customised to match your website's style. Find them under Add new element → Media. Add the icon element to your site, then edit it to choose your icon.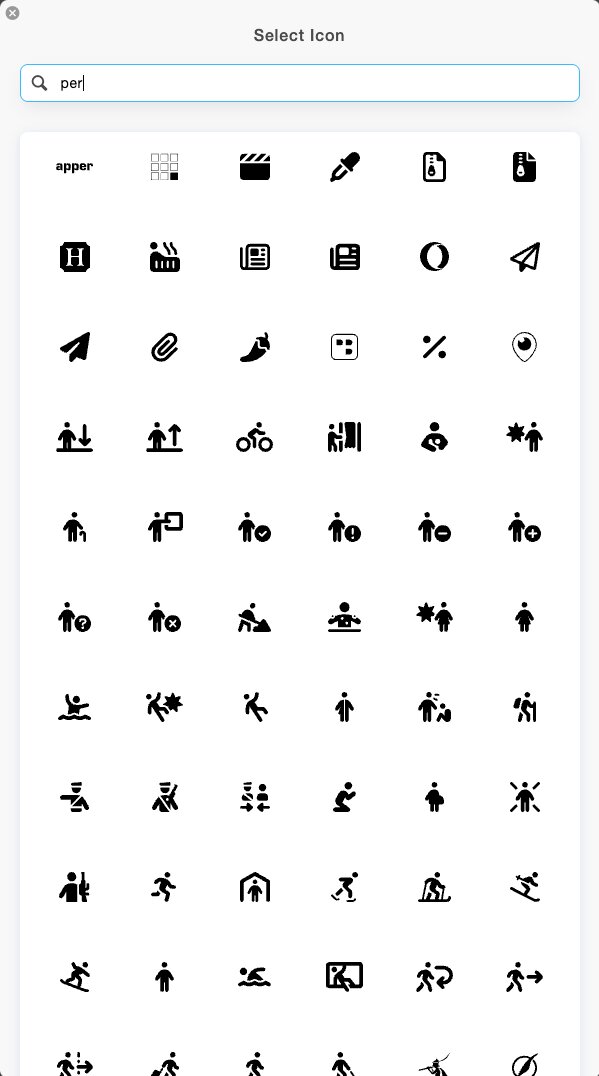 New: Create galleries directly from the Image Library
2023-03-22
You can now create gallery pages directly from the Image Library.
Select images in the Image Library


Click Add the Images to a Page

Select an existing gallery or create a new one
New: tag images in the Image Library
2023-03-22
You can now add tags to your images in the Image Library. This allows you to sort your images to search by tag.
Select images in the Image Library


Add a tag in the tag field

Save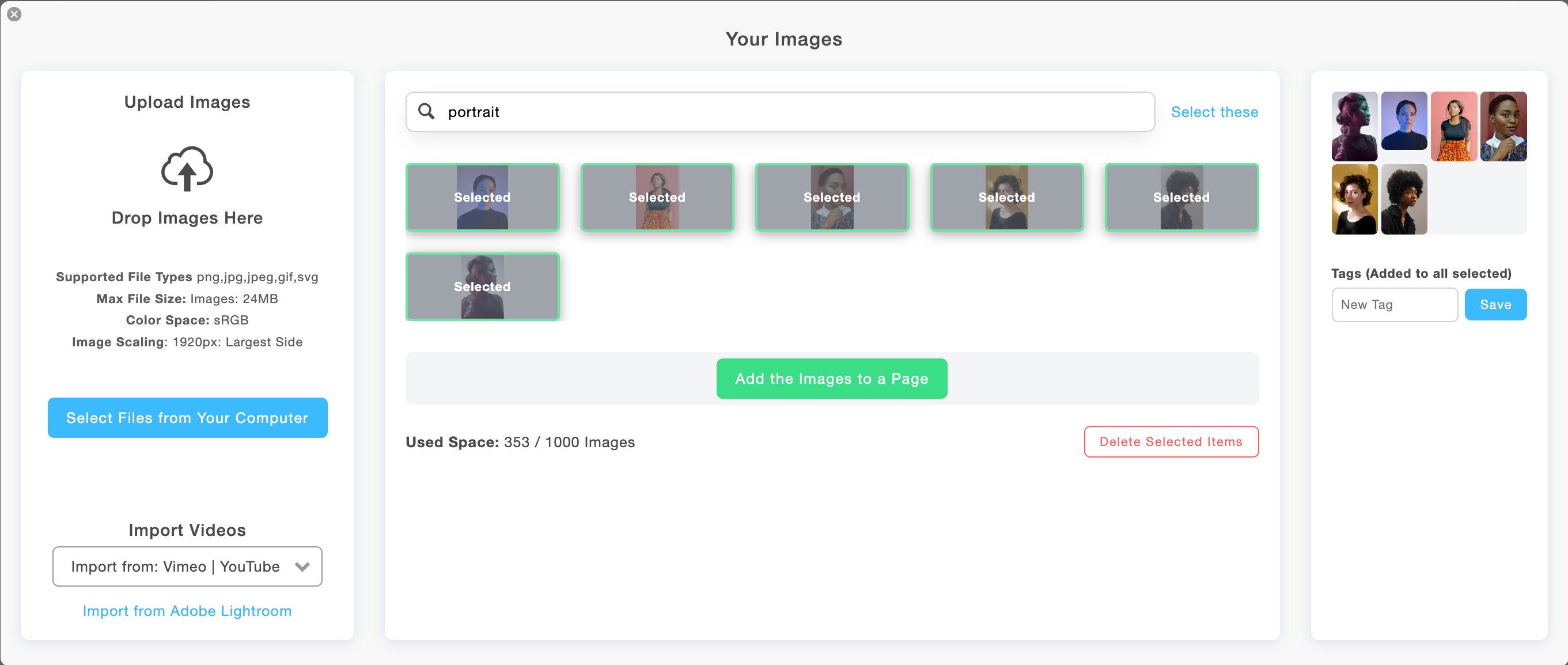 New: Template size settings
2023-03-16
You can choose a Template Size that will apply to all new pages on your site. You can select a template size (Small, Medium, Large), the default animations for images and the default hover effect for images. The template size will affect the following:
padding of sections

hover transition for images

animations for images

caption position for images

overall font size

font size for header and logo

image margins in galleries

image size in galleries

Find it under Styles → Global styles → Template settings. 
Read more about Template Settings.
New Text Template: Two Columns 4

2023-03-08
We released a new template for text pages: Two Columns 4. This new text template allows two columns to be created on your page. You can customise them with headers, images, buttons, forms or other elements. Introduce your team, your newest product, or a project.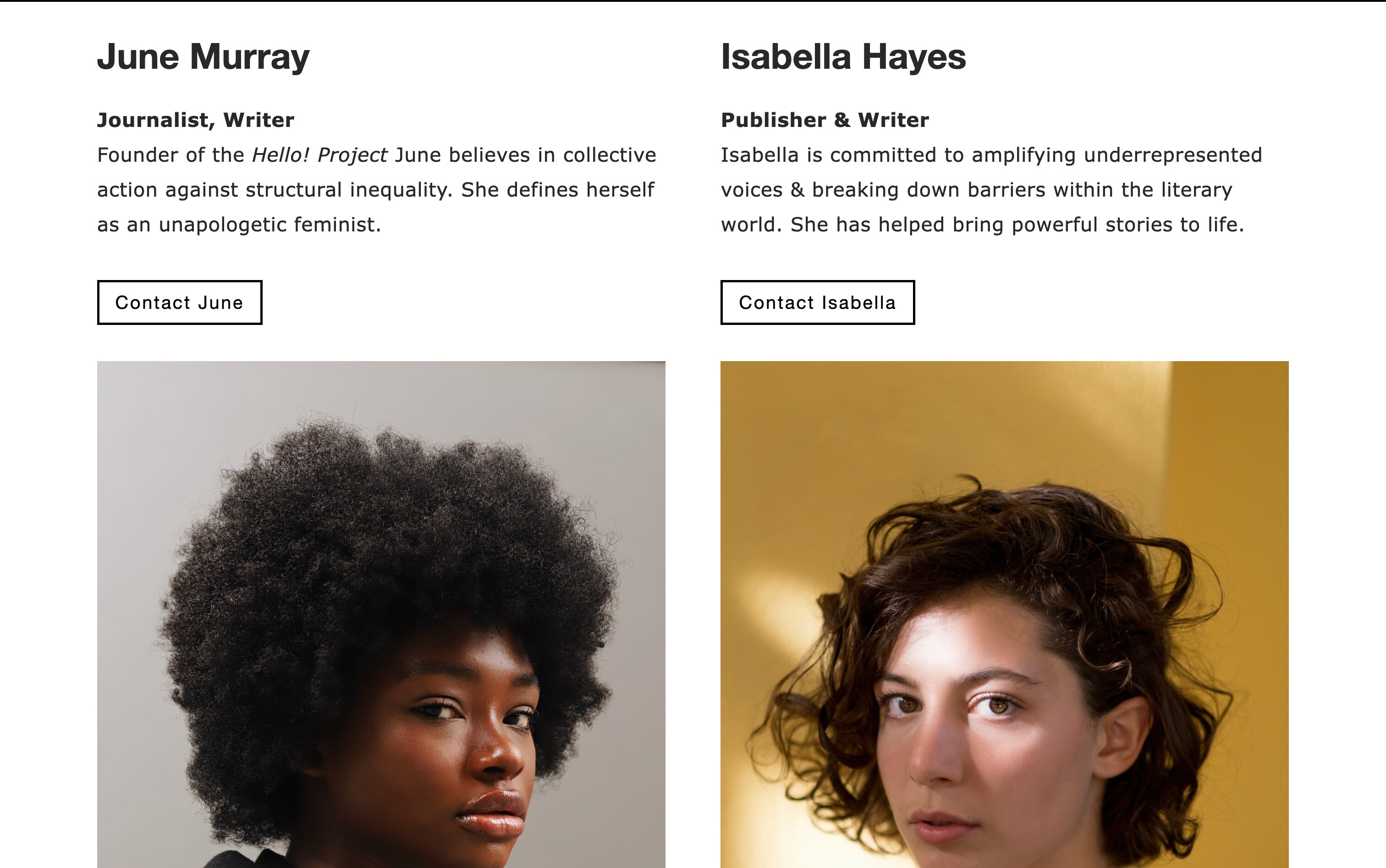 New: Horizontal hidden menu

2023-03-08
When your menu is hidden, you can choose that your menu links display horizontally instead of vertically by default. The submenus will display under the associated menu item, creating columns.

Edit it under: 
Edit menu
Styles
Size
Hidden Menu Style: Cover - Horizontal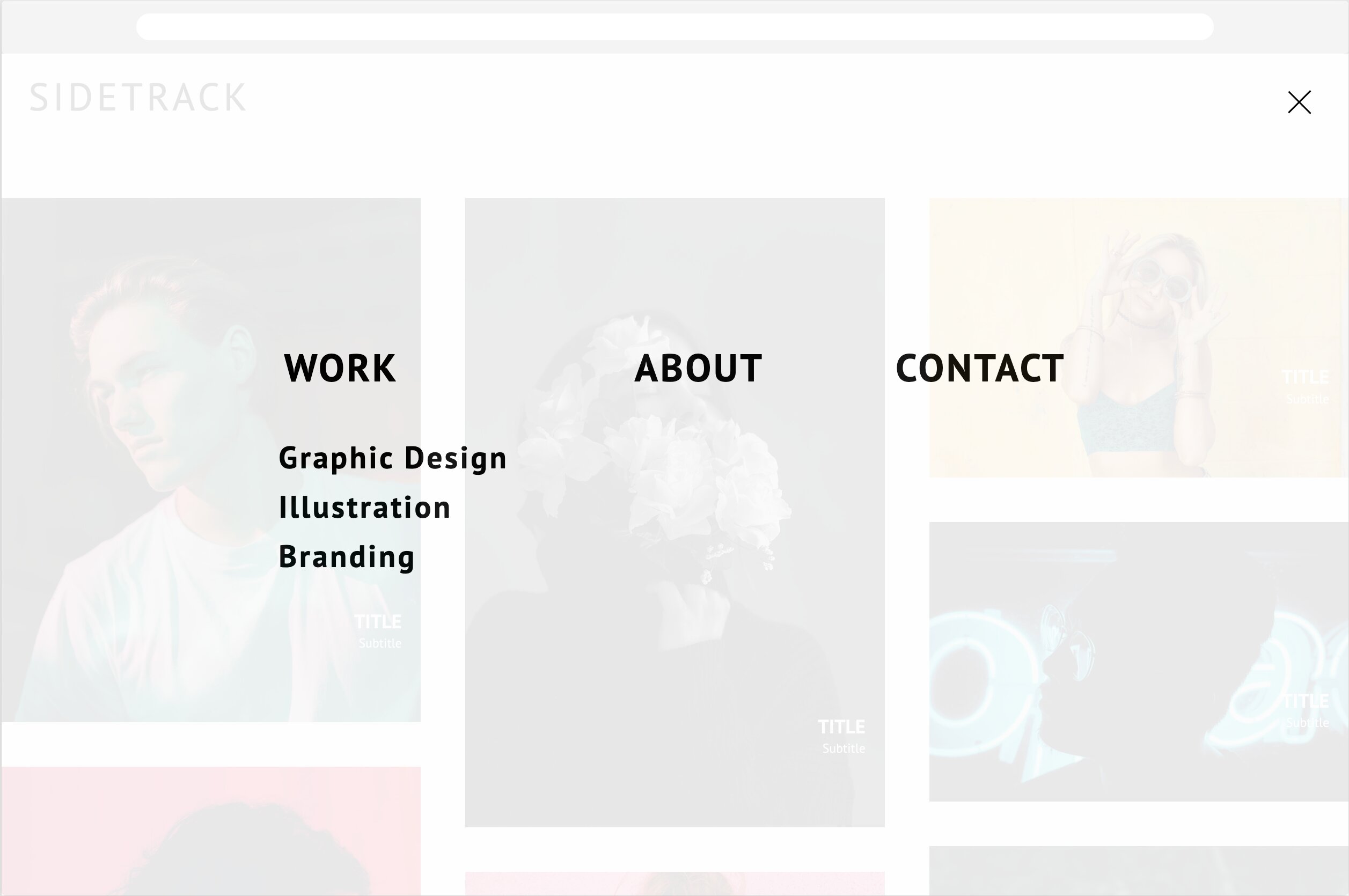 5 New Colour Overlay on Hover for Images

2023-03-08
Choose new hover effects for images in your gallery under "Animations".
Edit images
Styles
Animations
Hover Effect: hover-overly-blue, hover-overly-red, hover-overly-purple, hover-overly-pink, hover-overly-turquoise, and hover-overly-random.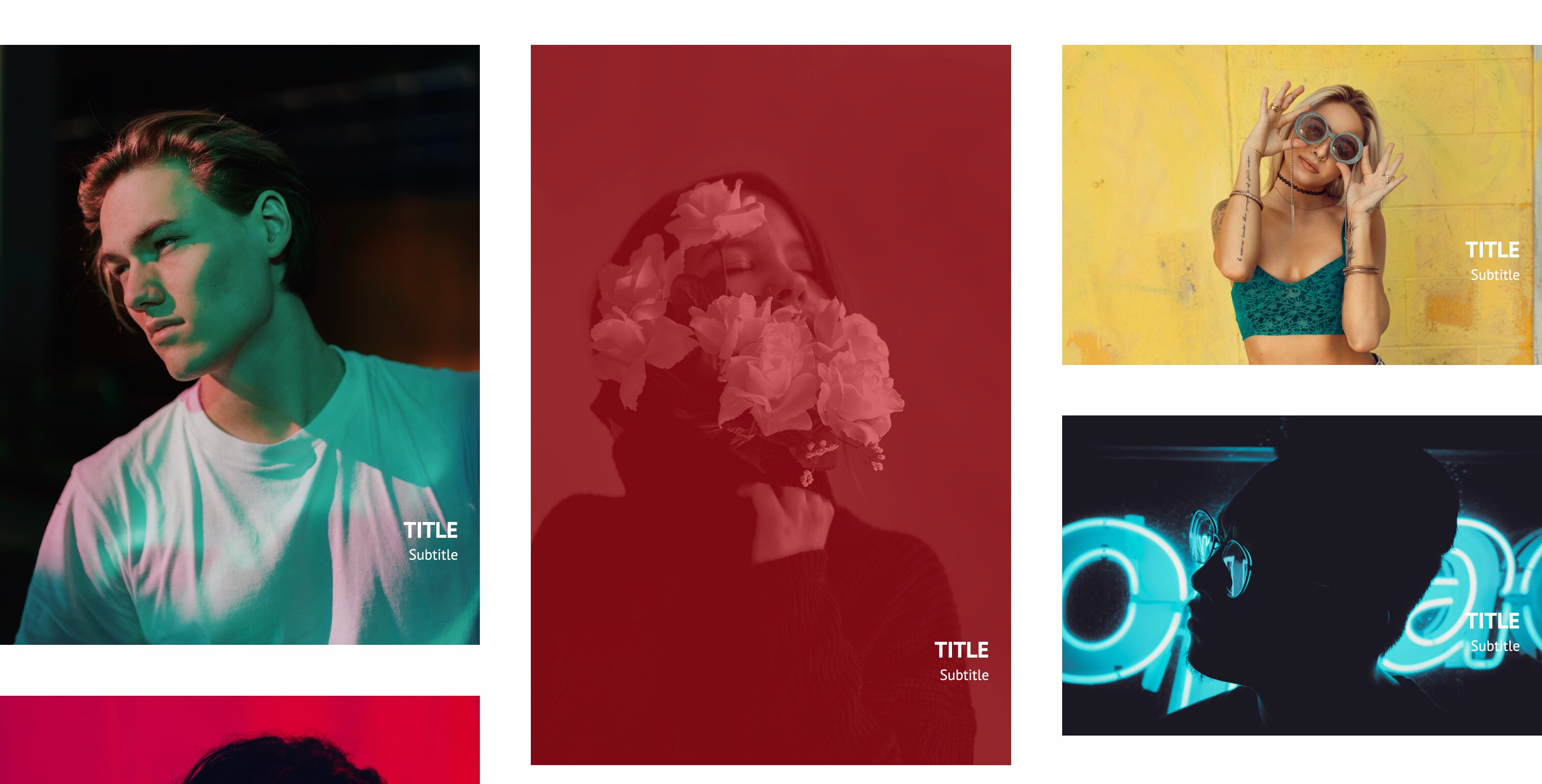 New Caption Placements for Gallery Images
2023-03-08
We implemented two new title placements for images in your galleries: Overlay & Overlay2, which will place the caption respectively on the image's top left and bottom right corner.
To edit the position of your title:
Click Edit images
Click Styles
Click Titles
Choose a Titles Placement in the dropdown menu
You can then adjust the padding and position of the title and subtitle.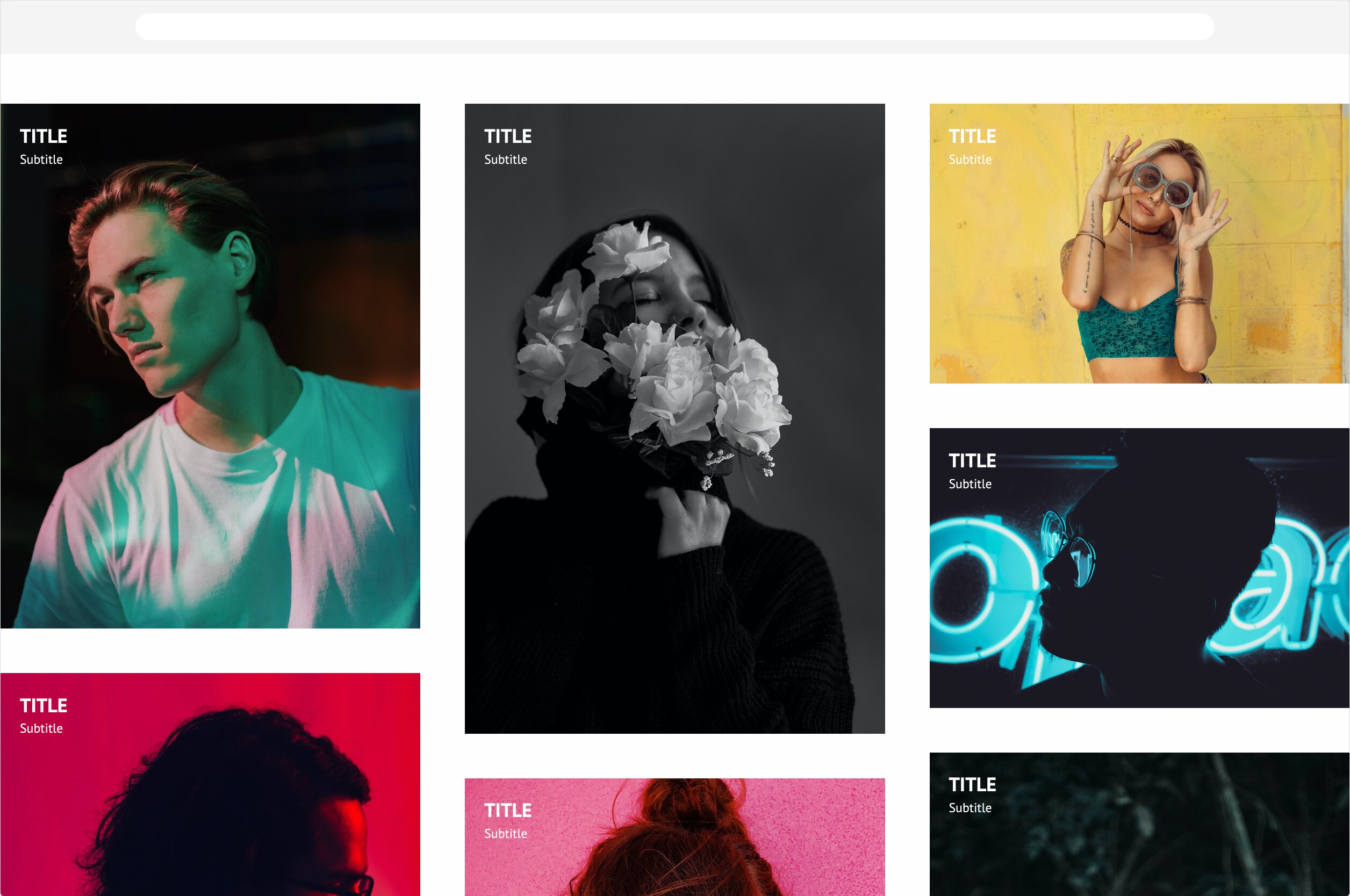 Overlay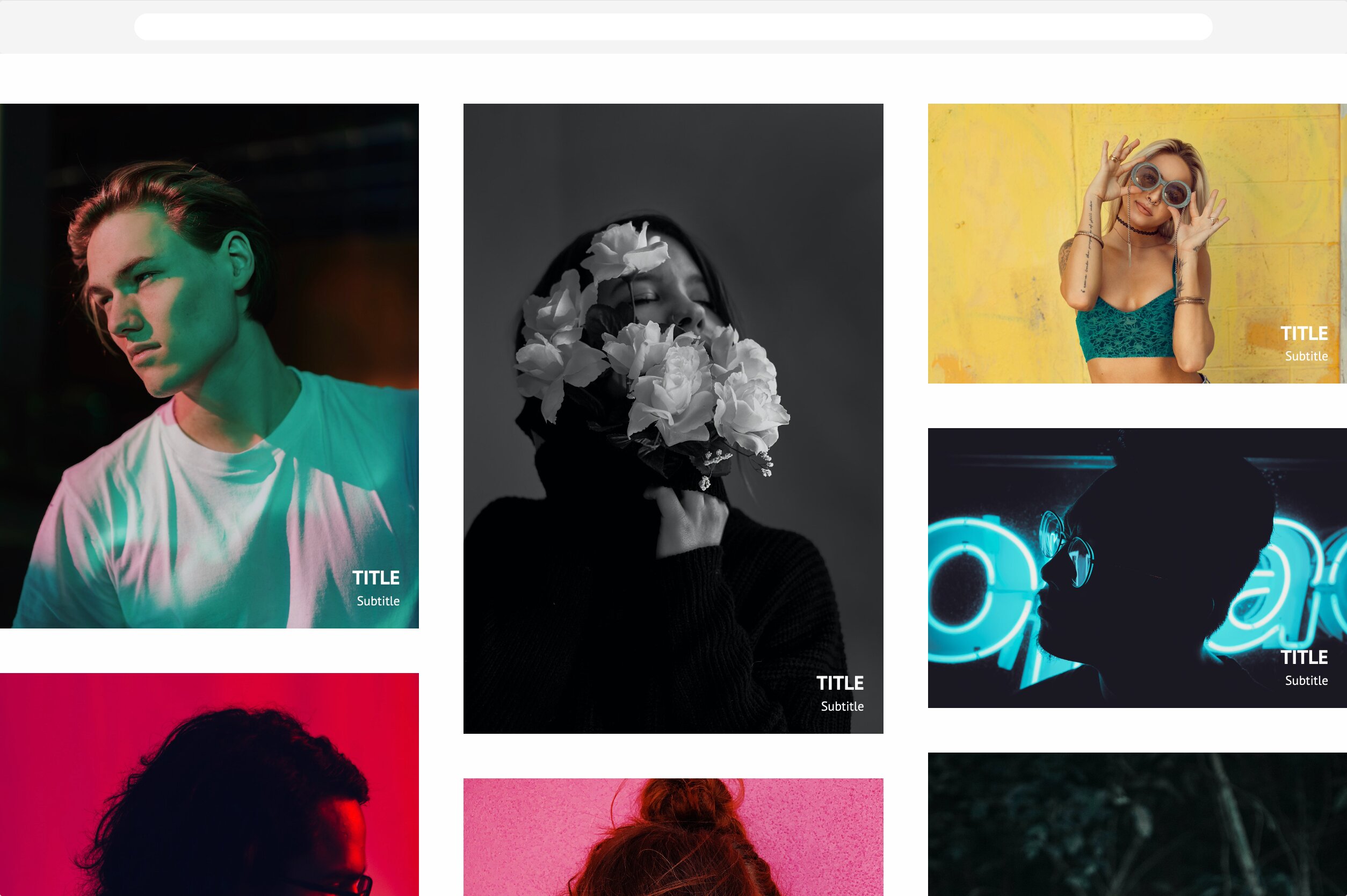 Overlay 2
New style for Dropdown Lists
2023-03-08
The style for the List type Dropdown was updated.
The text isn't bold.
The + icon turns into a - icon when the list item is open.

New features
2023-02-16
Duplicate sections to password-protected pages
Show/hides elements on mobile devices from Mobile styles
New feature: gradients background for elements
2023-02-16
Introducing our latest addition: Gradient Colours! Now, effortlessly transform your website's background and selected text elements with stunning gradients to captivate your audience. Unleash your creativity and make a vibrant, seamless colour gradient statement!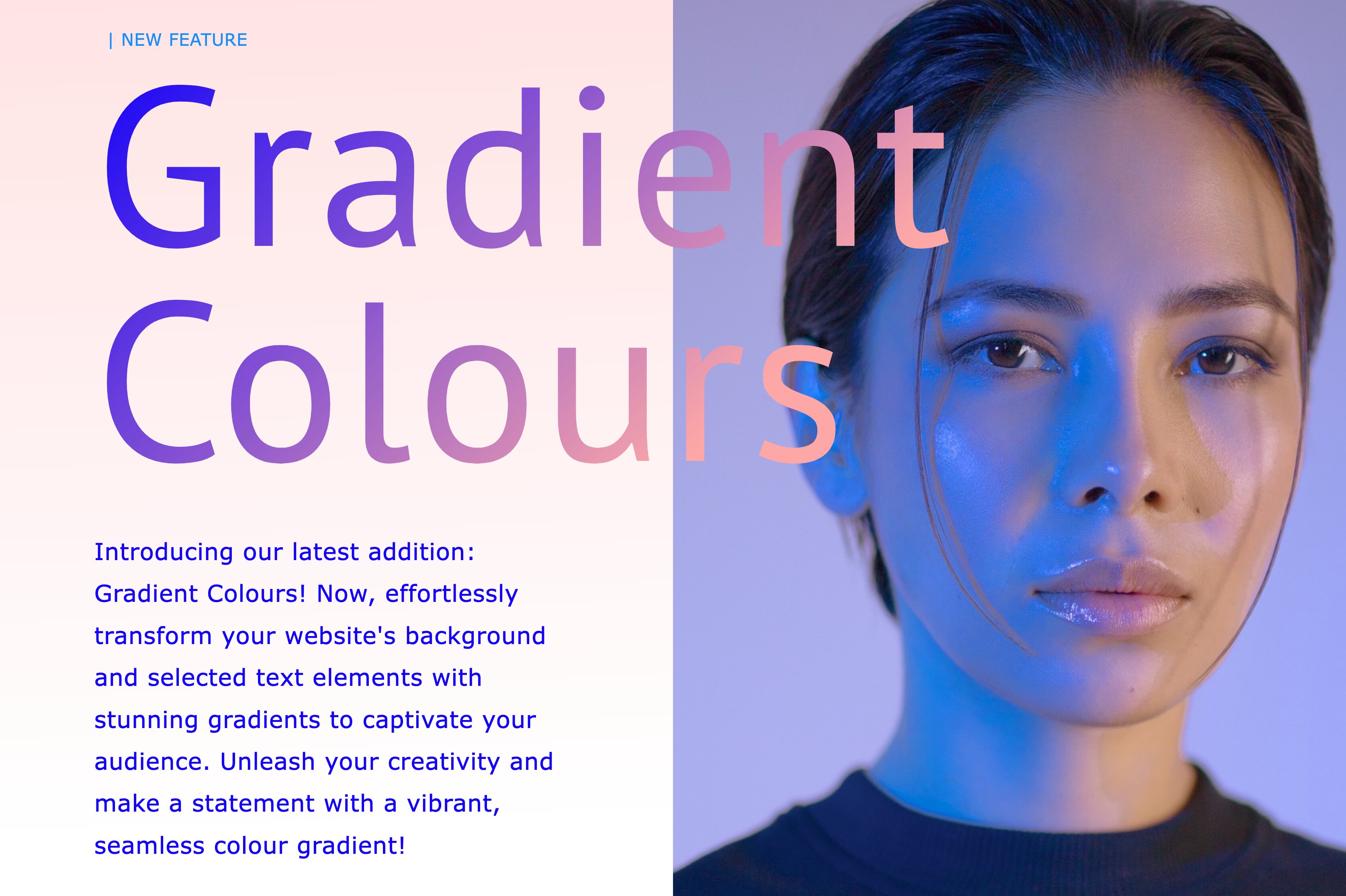 New styles for forms
2023-02-14
We now have the option to apply different styles to forms.
Update: New style on inputs in forms
2023-02-14
The label moves to the top of the form when the input is focused.
New blog feature: Next / Back on blog posts

2023-02-14
You can now go to the next or previous blog post with the icons below the blog post.
Left arrow: go to the previous blog post
Right arrow: go to the next blog post
Hamburger: go back to the first page of your blog
New features: Email Subscription Form
2023-02-06
Collect email addresses with the new Email Subscription Form. Find it under Add New Element → Form → Email Subscription.
When your visitor clicks that button, a popup will show.
A confirmation email will be emailed to the address when the visitor submits the form.
The visitor must click the confirmation email within 12 hours to be added to the mailing list.
You can see all email subscribers and export a CSV file under Settings → Email subscribers.
Style improvements
2023-02-02
Style: All popups in front are improved and can be closed on the background.

Style: Smooth transition on scroll-to-top and scroll-to-section links.

You can now add bullet points in a CV description.

Style: 4 new

Hover Effects

were added for gallery images (shadow 1 & 2, opacity, overlay).
Submenu has a new, more modern style:

The submenu is aligned with the item above. 
All submenu styles are fixed.
Shadow was removed.
Slideshow: Possible to edit the timing of the auto slide.

Lightbox: You can now hide the share icons.
Mobile improvements 
2023-02-02
Mobile preview: The Mobile/desktop preview leads to the current page.
Mobile Menu Icon: The default style is improved, and four templates have been added. Find them under Global styles → Mobile → Menu Style → Menu icon style.


You can now add a Mobile Logo for all Logo elements on your website.
Improvements for e-commerce
2023-02-02
A Low inventory notice is sent when fewer than 5 products are in stock and you track stock.

An option to show the cart even if it's empty was added.

If you use Google Analytics, a gtag event is sent when a product is added to the cart. You can use this data for Google Ads retargeting.

You can now add alt-tag to product images (SEO title)
Improvement: Better order management
2023-02-02
Here is what's new: 
The list can be filtered by payment status, delivery status, payment method, and item type.
You can search for a customer's name or order ID.
You can easily view the status of the payment & the shipping.
You can set a payment status of an order: Pending, Paid, Refunded, or Cancelled.
You can set a shipping status: as Pending or Shipped.
You can delete an order. 
Learn more about order management.
New: SEO guide in your admin panel
2023-02-23
Follow the guide in your admin panel to optimise your website for Search Engines. Click the icon in the bottom right-hand corner of your admin panel.
New:
inventory validation on checkout
2022-12-14
The system checks the inventory of the product before the checkout is completed. Suppose a customer adds the product to the cart, which gets sold out before the order is completed. In that case, the customer will see a message inviting him to contact the seller to verify the product availability. 
As the seller, you will also receive an email informing you that the checkout failed, with information about the customer.
New: Digital product & Digital download
2022-12-05
You can now upload, share, and sell digital files in your portfolio: ebooks, audio files, tutorials, courses, Lightroom presets, character designs, Photoshop brushes, zip files, or other digital files. 
Your customers are sent a secure download link with a time limit. They will be redirected to a download page on your website. 

Learn more about Digital files
Update: product button
2022-11-18
We updated the product button so that you can now change the button's text, and choose to open the checkout directly without adding the product to the cart first. 
New checkout interface
2022-11-16
The discount code field is in the checkout view
Terms and Conditions are accepted by submitting
It's possible to close the popup by clicking the background
Legacy "manual order" was removed. You can choose invoice payment instead.


New: dropdown lists 
2022-10-21
FAQ and general lists now have a dropdown style. Edit the style under Styles → Sizes → Type of lists. This allows you to hide and show the content of the lists. 
30 new templates
2022-10-06
We implemented 30 new templates: 
Gallery 

Horizontal Focus: where the active image is visible, and the others have a reduced opacity

Puzzle 2:  with an extensive image and two smaller ones on the side

Text

Two Columns 3

Image Left 2

Image Right 2

Image Top 3

Image Bottom 3



Slideshow Left


Slideshow Right

Cover




Large Header Left

Image Bottom 3


Store

Horizontal Focus: where the active image is visible, and the others have a reduced opacity

Puzzle 2:  with an extensive image and two smaller ones on the side

Link page

Parallax

Horizontal focus

Puzzle 2


Sub-menu

Big Submenu

Menu Halfscreen


Services

Grid portraits

Circles 2

Columns

Team

Grid portraits

Circles 2

Columns

Grid Two Columns


Logos

Circles 2

Align the Center Two Columns

CV

Halfscreen CV

Two columns 3

Image Top 3


Testimonials

Circles 2

Grid Portraits 2

Template clean-up
2022-10-03
We upgraded our existing templates by adjusting the margins, the filler content and other details in the layout.
We also extracted the contact pages from the text pages category. They now have their own category in the list of page templates. 
New template for forms
2022-10-03
In the form, you can add a new field: "Two text fields on one row". This input creates two fields on the same line.
Smaller feature updates
2022-09-14
It's now possible to have an overlay on a section background image
Lightbox has a height setting (if you want more text under the image, for example)
Social media share on products could not be hidden. This is fixed.
Duplicate page feature is directly accessible from the page list (it was under page settings before)
New: Copy / Paste styles 
2022-09-14
You can now copy the style of an element and paste it into another element, even a different one. 
A new way to edit the mobile version
2022-09-14
It's possible to edit the mobile view by clicking the mobile preview icon. 
New: Link to help page from admin panel
2022-09-14
A new Learn button is in the admin panel's lower right corner. You'll find tutorial videos and a link to our help page.
New: ready-made color & font combination
2022-08-30
You can now use ready-made colour and font combinations. Click on Styles → Ready Combinations. Choosing a ready-made combination will
reset all Global Colors and fonts of the site. 
New in global styles
2022-07-25
Caption titles, Caption subtitles, Caption text and Caption button are added to global styles. It's also possible to set hover colors on buttons.
New: Position of the button in a contact form
2022-07-25
It is now possible to position the button of a form left, centre, right, or next to the form. The default position is next to the form.

Small updates
2022-07-20
You can now change padding-x/y on buttons, both in global styles and in element style.
Padding top/bottom for sections is in vh instead of em
It's possible to clear color in color editor. This is usable for buttons, for example.
The buttons in the forms previously did not get the Overall Button Styles on hover. They now do.
Pdf in a text field now automtically open in a new tab.
The buttons hover colors are now consistent.
Logos have the correct margins in mobile.

Lists items Descriptions can be styled and have links.
Improved interface for Product Settings, Store Settings, and Link Selector
2022-06-14
We implemented side menues to Product Settings, Store Settings and Link Selector, instead of drop down.
New: Password Protected Pages
2022-05-11
You can set a password to Password Protected Pages
You can share the page with your clients
They can never be public, meaning that they can't be found in Google Search result.
They don't show up in the Page lists such as "Set as startpage", "Link to Page", "Duplicate section to page"
You can't duplicate sections from Password Protected Pages to Pages
Password Protected Pages are not added to SEO (sitemap.txt) and there are no SEO settings
New link selector: Blog post
2022-05-04
You can now link to a blog post in the link selector.
New settings for slideshows: Start randomly & Automatic.
2022-05-04
We implement new settings for Slideshow templates:
Automatic: the image will change every four seconds automatically. The timing can't be edited. The arrows are hidden. 

Start randomly: the slideshow starts on a random image.
Find them under Edit images → Styles → Image Styles.
3 new Slideshow templates
2022-05-04
We released 3 new slideshow cover templates.
New Fullscreen template for text pages
2022-04-25
We released a new Fullscreen template for your text pages: Fullscreen 4. Find it under Manage Pages → Create New Page → Text and Contacts.
New templates for Services and Team
2022-04-18
We released templates to display your services and team as lists: Grid 2, List, Columns, Half Screen.
New Element: Add to cart button
2022-04-14
You can now add a button "Add to cart" to any page. This gives you an option to create a fully customized section or give your product some special attention.
New feature: Sample sections on Gallery and Link pages
2022-04-05
When "Add sample sections" is toggled for Gallery and Link pages, your page will include sample sections in addition to your Gallery or Link section. Think of it as a full page template that you can edit and customize as you wish.
Portfoliobox ${pbVer}: Search Result
Ein Online-Portfolio für Kreative
Mit allen Tools, die Profis brauchen
Dynamisches Raster
Gleichmäßige Reihen
Goldener Schnitt
Quadrat
Zentriert
Puzzle
Zufällig
Horizontal
Horizontal 2
Horizontal 3
Vertikal
Zwei zu Eins
Drei zu Eins
Wir nutzen Cookies, um dir den Besuch unserer Website so angenehm wie möglich zu machen. Mehr Infos hier
<?xml version="1.0" encoding="utf-8"?>