New: Template size settings
2023-03-16
You can choose a Template Size that will apply to all new pages on your site. You can choose a template size (Small, Medium, Large), the default animations for images and the default hover effect for images. The template size will affect the following:
padding of sections

hover transition for images

animations for images

caption position for images

overall font size

font size for header and logo

image margins in galleries

image size in galleries

Find it under Styles → Global styles → Template settings. 
Read more about Template Settings.
New Text Template: Two Columns 4

2023-03-08
We released a new template for text pages: Two Columns 4. This new text template allows 2 columns to be created on your page. You can customise them with headers, images, buttons, forms or other elements. Introduce your team, your newest product, or a project.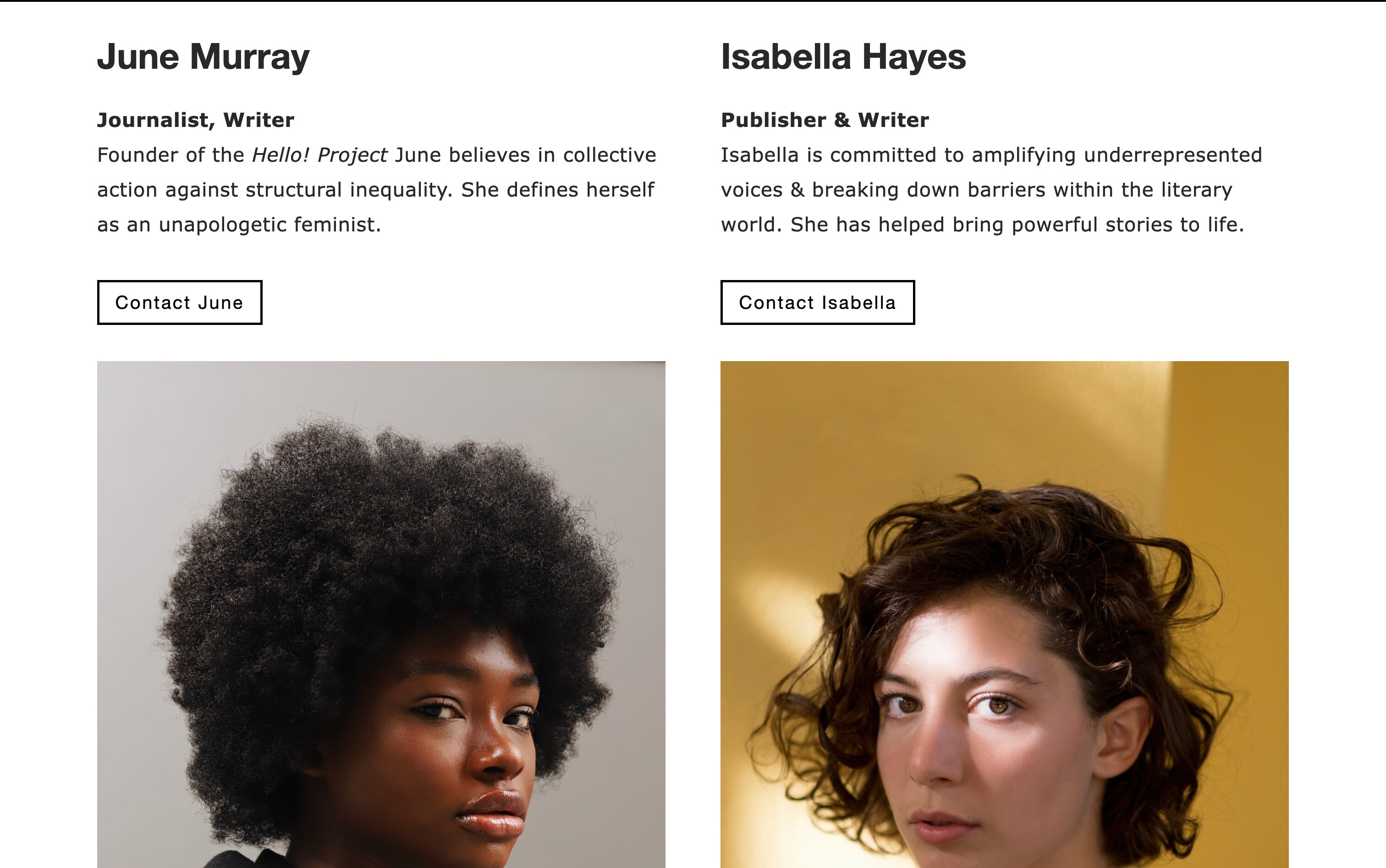 New: Horizontal hidden menu

2023-03-08
When your menu is hidden, you can choose that your menu links display horizontally instead of vertically by default. The submenus will display under the associated menu item, creating columns.

Edit it under: 
Edit menu
Styles
Size
Hidden Menu Style: Cover - Horizontal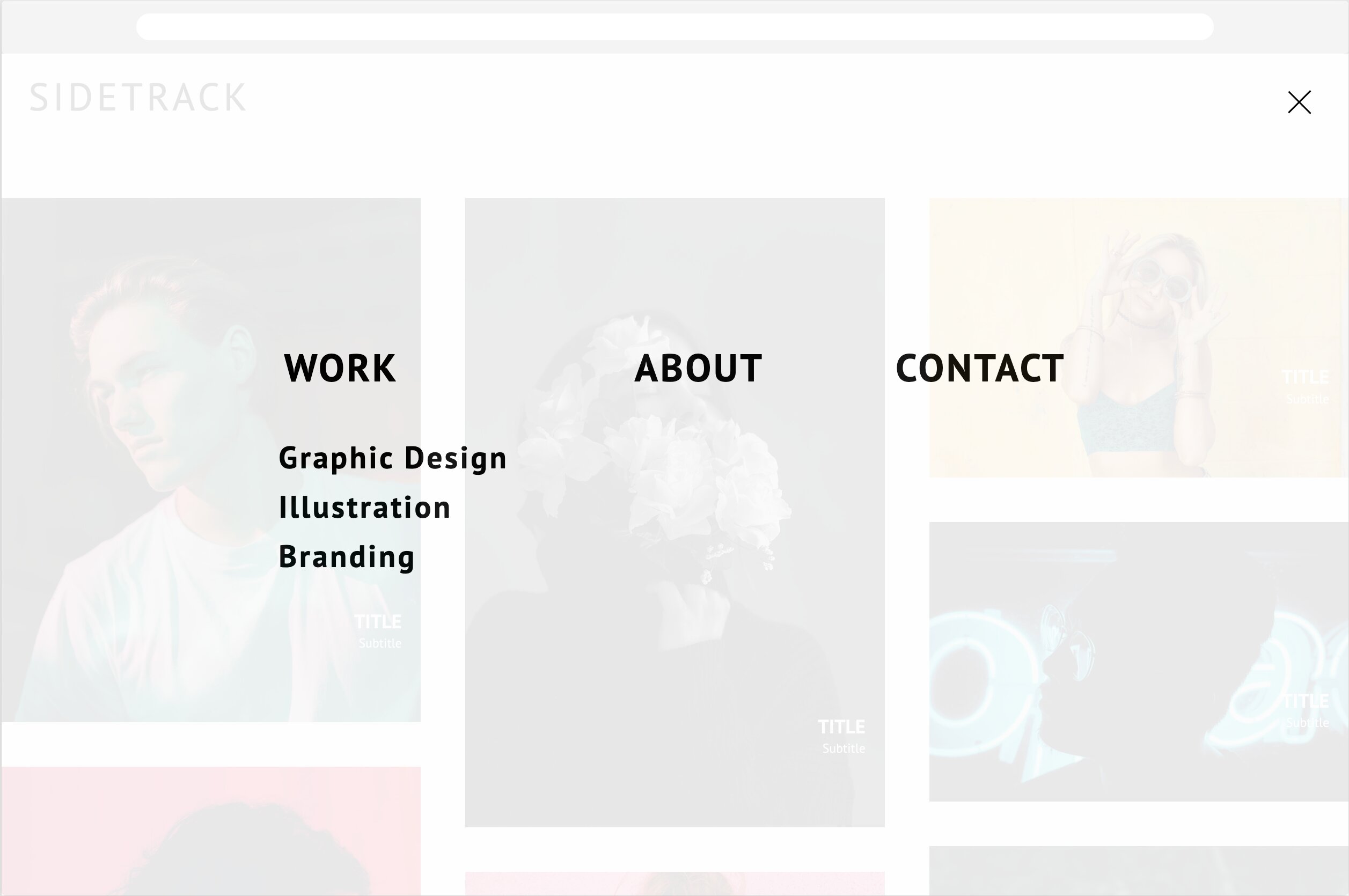 5 New Colour Overlay on Hover for Images

2023-03-08
Choose new hover effects for images in your gallery under "Animations".
Edit images
Styles
Animations
Hover Effect: hover-overly-blue, hover-overly-red, hover-overly-purple, hover-overly-pink, hover-overly-turquoise, and hover-overly-random.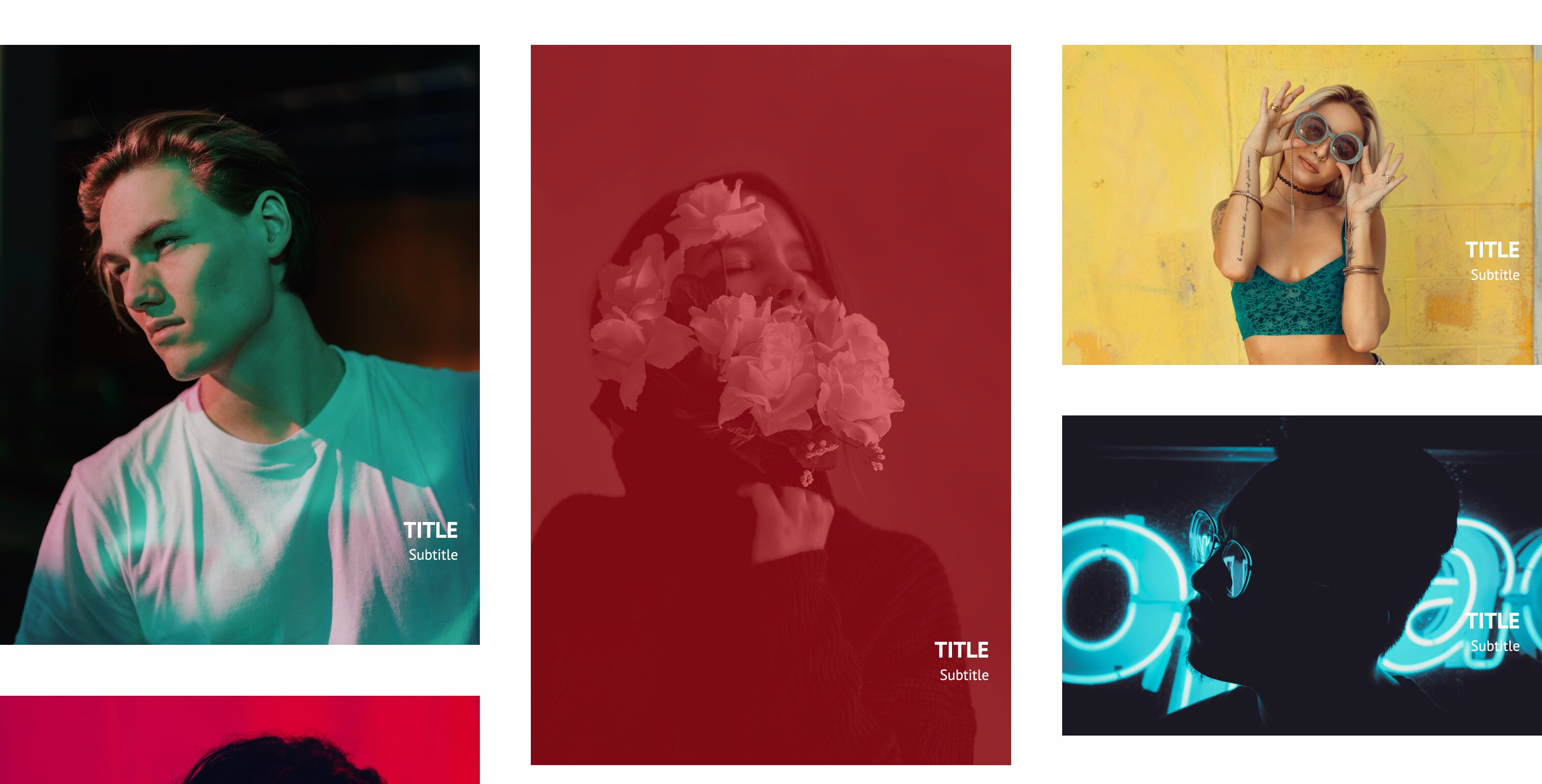 New Caption Placements for Gallery Images
2023-03-08
We implemented two new title placements for images in your galleries: Overlay & Overlay2, which will place the caption respectively on the image's top left and bottom right corner.
To edit the position of your title:
Click Edit images
Click Styles
Click Titles
Choose a Titles Placement in the dropdown menu
You can then adjust the padding and position of the title and subtitle.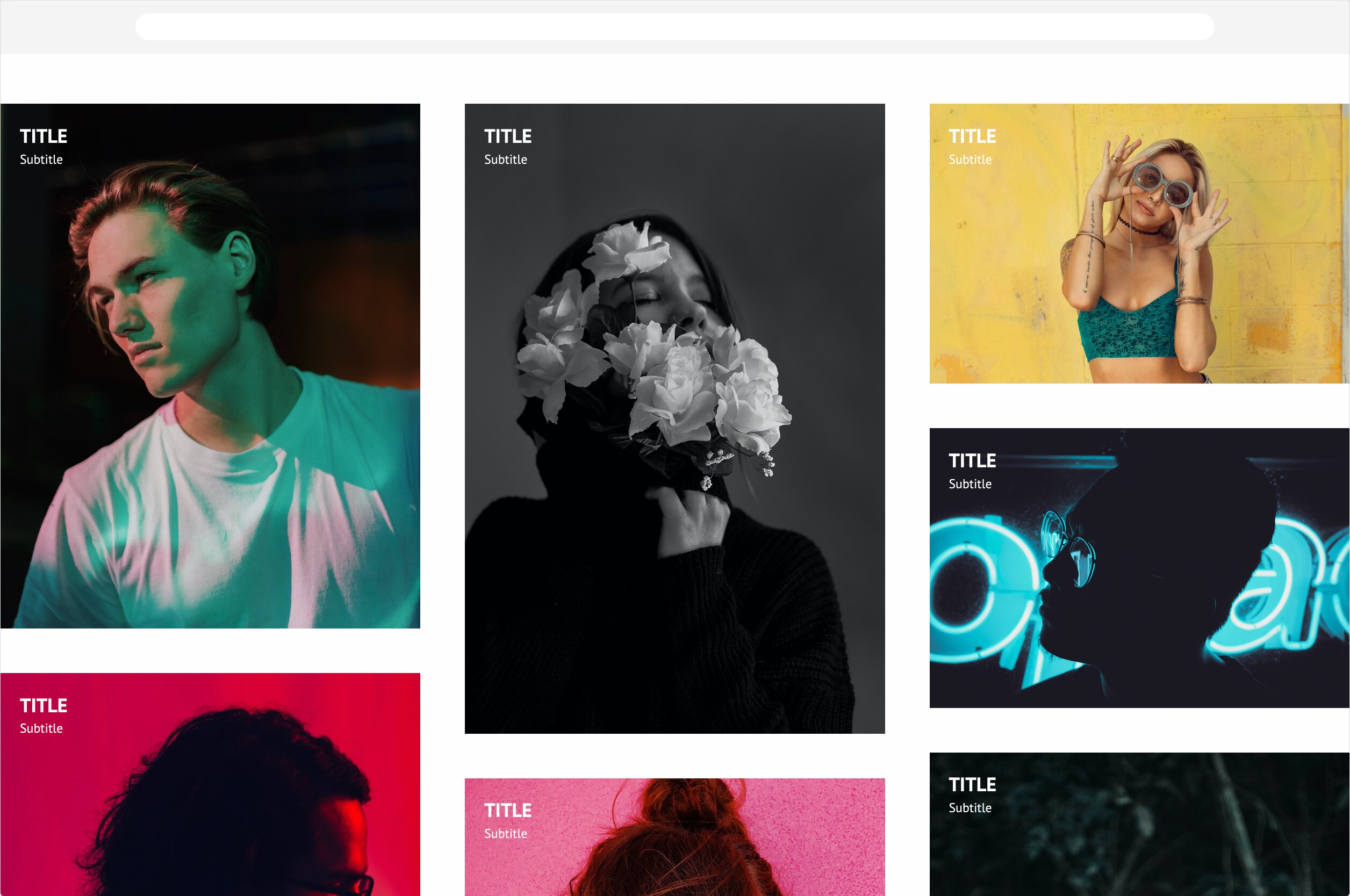 Overlay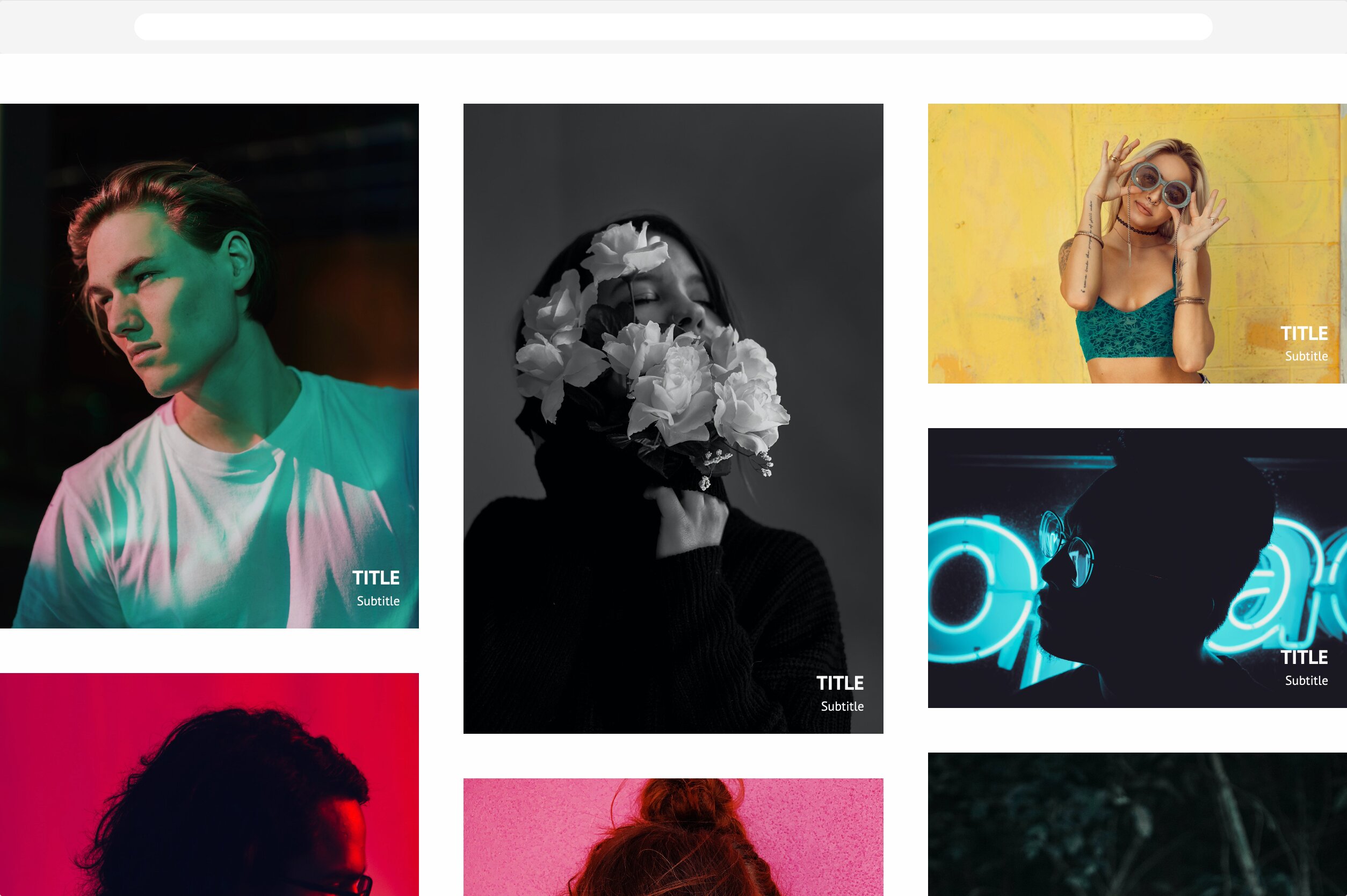 Overlay 2
New style for Dropdown Lists
2023-03-08
The style for the List type Dropdown was updated.
The text isn't bold.
The + icon turns into a - icon when the list item is open.

New features
2023-02-16
Duplicate sections to password-protected pages
Show/hides elements on mobile devices from Mobile styles
New feature: gradients background for elements
2023-02-16
Introducing our latest addition: Gradient Colours! Now, effortlessly transform your website's background and selected text elements with stunning gradients to captivate your audience. Unleash your creativity and make a vibrant, seamless colour gradient statement!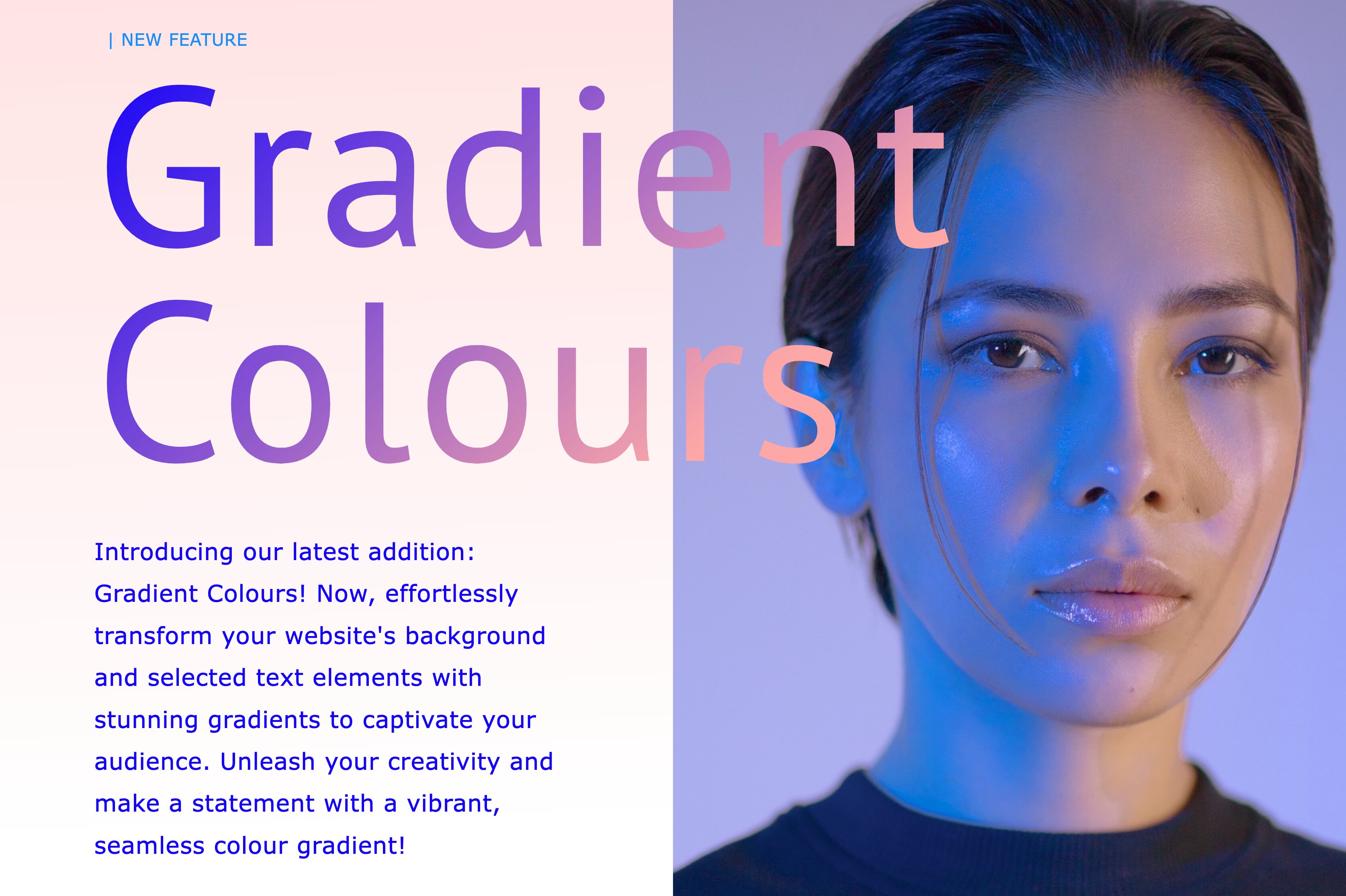 New styles for forms
2023-02-14
We now have the option to apply different styles to forms.
Update: New style on inputs in forms
2023-02-14
The label moves to the top of the form when the input is focused.
New blog feature: Next / Back on blog posts

2023-02-14
You can now go to the next or previous blog post with the icons below the blog post.
Left arrow: go to the previous blog post
Right arrow: go to the next blog post
Hamburger: go back to the first page of your blog
New features: Email Subscription Form
2023-02-06
Collect email addresses with the new Email Subscription Form. Find it under Add New Element → Form → Email Subscription.
When your visitor clicks that button, a popup will show.
A confirmation email will be emailed to the address when the visitor submits the form.
The visitor must click the confirmation email within 12 hours to be added to the mailing list.
You can see all email subscribers and export a CSV file under Settings → Email subscribers.
Style improvements
2023-02-02
Style: All popups in front are improved and can be closed on the background.

Style: Smooth transition on scroll-to-top and scroll-to-section links.

You can now add bullet points in a CV description.

Style: 4 new

Hover Effects

were added for gallery images (shadow 1 & 2, opacity, overlay).
Submenu has a new, more modern style:

The submenu is aligned with the item above. 
All submenu styles are fixed.
Shadow was removed.
Mobile improvements 
2023-02-02
Mobile preview: The Mobile/desktop preview leads to the current page.
Mobile Menu Icon: The default style is improved, and four templates have been added. Find them under Global styles → Mobile → Menu Style → Menu icon style.


You can now add a Mobile Logo for all Logo elements on your website.
Improvements for e-commerce
2023-02-02
A Low inventory notice is sent when fewer than 5 products are in stock and you track stock.

An option to show the cart even if it's empty was added.

If you use Google Analytics, a gtag event is sent when a product is added to the cart. You can use this data for Google Ads retargeting.

You can now add alt-tag to product images (SEO title)
Improvement: Better order management
2023-02-02
Here is what's new: 
The list can be filtered by payment status, delivery status, payment method, and item type.
You can search for a customer's name or order ID.
You can easily view the status of the payment & the shipping.
You can set a payment status of an order: Pending, Paid, Refunded, or Cancelled.
You can set a shipping status: as Pending or Shipped.
You can delete an order. 
Learn more about order management.
New: SEO guide in your admin panel
2023-02-23
Follow the guide in your admin panel to optimise your website for Search Engines. Click the icon in the bottom right-hand corner of your admin panel.
New:
inventory validation on checkout
2022-12-14
The system checks the inventory of the product before the checkout is completed. Suppose a customer adds the product to the cart, which gets sold out before the order is completed. In that case, the customer will see a message inviting him to contact the seller to verify the product availability. 
As the seller, you will also receive an email informing you that the checkout failed, with information about the customer.
New: Digital product & Digital download
2022-12-05
You can now upload, share, and sell digital files in your portfolio: ebooks, audio files, tutorials, courses, Lightroom presets, character designs, Photoshop brushes, zip files, or other digital files. 
Your customers are sent a secure download link with a time limit. They will be redirected to a download page on your website. 

Learn more about Digital files
Update: product button
2022-11-18
We updated the product button so that you can now change the button's text, and choose to open the checkout directly without adding the product to the cart first. 
New checkout interface
2022-11-16
The discount code field is in the checkout view
Terms and Conditions are accepted by submitting
It's possible to close the popup by clicking the background
Legacy "manual order" was removed. You can choose invoice payment instead.


New: dropdown lists 
2022-10-21
FAQ and general lists now have a dropdown style. Edit the style under Styles → Sizes → Type of lists. This allows you to hide and show the content of the lists. 
30 new templates
2022-10-06
We implemented 30 new templates: 
Gallery 

Horizontal Focus: where the active image is visible, and the others have a reduced opacity

Puzzle 2:  with an extensive image and two smaller ones on the side

Text

Two Columns 3

Image Left 2

Image Right 2

Image Top 3

Image Bottom 3



Slideshow Left


Slideshow Right

Cover




Large Header Left

Image Bottom 3


Store

Horizontal Focus: where the active image is visible, and the others have a reduced opacity

Puzzle 2:  with an extensive image and two smaller ones on the side

Link page

Parallax

Horizontal focus

Puzzle 2


Sub-menu

Big Submenu

Menu Halfscreen


Services

Grid portraits

Circles 2

Columns

Team

Grid portraits

Circles 2

Columns

Grid Two Columns


Logos

Circles 2

Align the Center Two Columns

CV

Halfscreen CV

Two columns 3

Image Top 3


Testimonials

Circles 2

Grid Portraits 2

Template clean-up
2022-10-03
New template for forms
2022-10-03
Smaller feature updates
2022-09-14
New: Copy / Paste styles 
2022-09-14
A new way to edit the mobile version
2022-09-14
New: Link to help page from admin panel
2022-09-14
New: ready-made color & font combination
2022-08-30
New in global styles
2022-07-25
New: Position of the button in a contact form
2022-07-25
It is now possible to position the button of a form left, centre, right, or next to the form. The default position is next to the form.

Improved interface for Product Settings, Store Settings, and Link Selector
2022-06-14
New: Password Protected Pages
2022-05-11
You can set a password to Password Protected Pages
You can share the page with your clients
They can never be public, meaning that they can't be found in Google Search result.
They don't show up in the Page lists such as "Set as startpage", "Link to Page", "Duplicate section to page"
You can't duplicate sections from Password Protected Pages to Pages
Password Protected Pages are not added to SEO (sitemap.txt) and there are no SEO settings
New link selector: Blog post
2022-05-04
You can now link to a blog post in the link selector.
New settings for slideshows: Start randomly & Automatic.
2022-05-04
We implement new settings for Slideshow templates:
Automatic: the image will change every four seconds automatically. The timing can't be edited. The arrows are hidden. 

Start randomly: the slideshow starts on a random image.
Find them under Edit images → Styles → Image Styles.
3 new Slideshow templates
2022-05-04
We released 3 new slideshow cover templates.
New Fullscreen template for text pages
2022-04-25
We released a new Fullscreen template for your text pages: Fullscreen 4. Find it under Manage Pages → Create New Page → Text and Contacts.
New templates for Services and Team
2022-04-18
We released templates to display your services and team as lists: Grid 2, List, Columns, Half Screen.
New Element: Add to cart button
2022-04-14
You can now add a button "Add to cart" to any page. This gives you an option to create a fully customized section or give your product some special attention.
New feature: Sample sections on Gallery and Link pages
2022-04-05
When "Add sample sections" is toggled for Gallery and Link pages, your page will include sample sections in addition to your Gallery or Link section. Think of it as a full page template that you can edit and customize as you wish.
Default settings updated
2022-02-16
Animations: All now have fade-in by default
Hover-transitions: No images have transitions by default
Letter-spacing: Default value is decreased a little
Mobile menu: Font size and line height is increased by default
Buttons: Slightly larger
Sections: Have font colour if you want to change all font colours of that section
New overlay colour for background images
2022-02-16
Add an overlay colour to your background images and edit its opacity to make your text stand out.

New list elements
2022-02-10
Together with the new templates below, we have also added new list elements: Calendar list and General list. These two elements have a property called "List-type" which alters the design. 


New templates: FAQ and Event
2022-02-10
We have released 6 new Event & FAQ templates. Find them under in the page categories Event and FAQ, under Manage Pages → Create New Page. These templates make it simple for you to create a FAQ page or list events on your website.
Improved margins for templates
2022-02-09
All templates now have the same default margins. This means that the section page should look nicer and tighter since elements are aligned. It is also better for mobile devices as the paddings are the same and sections align better.
Note that this does not affect existing pages/sections, it will apply to new pages or sections that you create.
12 New cover templates
2022-01-31
We implement 12 new cover templates. See below.
New design for forms
2022-01-24
Contact forms, Check out forms for your e-shop, Comment forms for your Blog and Client Galleries have got an updated design. No more inner shadow background and the text fields expand when in focus.
New Animations
2022-01-24
24 new animations were added to the lists.
Some animations were removed. They will keep on working if you have them selected on some elements. 
Animations now work every time a section scrolls into view. If you scroll down to the end of the page, then scroll up again, all animations will run again.
New hover animations for links elements. 
New

animations for Gallery where the images can zoom, slide or fade in from different directions. 
New: Target for external links
2022-01-17
You can now choose a target for external link: Open in a new window or Open in the same window.
Update of the cookie message
2022-01-17
The cookie message on your website now lets your visitor choose which type of cookies they want to allow: Allow All, Allow Necessary or Leave Website. Read more about cookie message.
Sections can be renamed 
2022-01-17
You can now rename sections when you reorder them. Click on Edit Section, then on Reoder section. You can now give a title to the section. This title is not visible on your live website, only in the admin panel. 
New Shop features
2021-12-10
The pop up "Added to cart" has been updated.
Categories can be sorted.
Fields can be hidden from the checkout under Store Settings → General. For example: "State" can be hidden if it's not relevant for your business. Note! The field Country is mandatory for the checkout so it will display even if you choose to hide it. 

A new checkbox "Subscribe to news" is added at checkout. It allows you to manually collect email addresses for your newsletter.

A message box was added at checkout. Your customers can now leave you a message at the checkout.
Update: Shop checkout
2021-11-09
We have updated the checkout experience of your shop. Here is what's new: 
The layout of the checkout pop up has been updated.
Country, State and City are automatically selected based on your customer's location. 
The layout of the credit card payment and Paypal payment have been updated.
Invoice is now payment method and the invoice procedure is updated. You can add:

payment instructions that will be visible on the invoice
a due date
a checkout message that will be visible on screen right after the order has been completed

The style of the email invoice is updated. It is now sent with the shop owner's name, to avoid any confusion.

The invoice is available for translation from Settings → Translation.
New: Categories for elements
2021-10-24
We improved the interface and sorted the elements into categories. It is now easier to find and understand the available elements. Check out the categories.
Update: Improved UI for styles
2021-10-08
Default Styles have been removed from Settings. It has now its own button in the main menu, at the top of the admin panel, in between Your libraries and Settings. The pop up is larger and improved.
The style-editor for individual elements was also improved. Colors & Font, Size, Margins & Positions, Animations and Style in mobile, are now gathered under one single tab Styles.
New: Mandatory fields for forms
2021-10-07
You can now set fields mandatory in contact forms. 
New link selector
2021-10-06
You can now link to a phone number in the link selector. 
New: Header 2 and Header 3 implemented
2021-09-30
Use headers to organise the content on your page with our 3 levels of heade: Header 1, Header 2, and Header 3. All headers elements have a respective HTML tag h1, h2 or h3 and are good for SEO. 
New integration: Picktime and Resurva
2021-07-26
Picktime and Resurva are appointment booking and scheduling apps. As Calendly, you can embed your Resurva booking calendar on your site. Picktime allows you to embed the button only.
New duplicate for product variants 
2021-06-30
It is now possible to duplicate the variants of a product to another product. The duplicated variants will replace the existing ones. 
New social media icons & new integration
2021-06-28
New social media icon: Vimeo.
The new Calendly integration allows you to embed your Calendly booking calendar into your online portfolio. Add Element below → Embed → Calendly.
Unpublished pages easier to identify
2021-06-20
Unpublished pages are now clearly identified in the page list.
Store updates
2021-05-25
You can now add sections to products. The discounts are improved for your e-shop, allowing you to create discounts like: Buy 3, pay for 2, Get $10 OFF on orders above $100, Get 20% off with a code, or Free shipping for orders above $50. 
New Typeform integration
2021-05-12
The